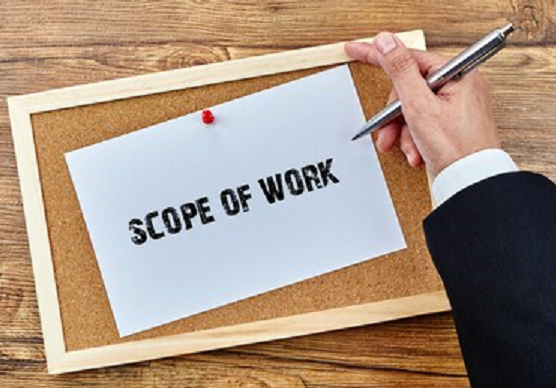 You might be a great networker capable of finding incredible real estate bargains. Still, without strong project management skills, you are bound to blow much of your potential profits. As a private lender, we see a consistent number of borrowers struggling to maintain control over their renovation process. However, you can avoid many issues by developing a roadmap for your renovation project early on. Such a roadmap is called a statement (or a scope) of work. A well-written scope of work is the foundation of your success as a real estate investor.
Scope of work (SOW) is a document used in construction management to detail the work you intend to perform at the property. It includes renovation costs, responsibilities of the parties involved, and, often, a timeline of the deliverables. Usually, the scope of work is written by either a client paying for the renovation or a contractor in charge of the job. Often, it's a collaboration between them. The scope of work is not necessarily a contract between a client and a contractor. Still, it could serve as such provided it offers enough detail.
There are several reasons why you should spend time developing a detailed and transparent scope of work.
It might be required – especially if you are paying for your rehab with private money.
Private lenders base their loans on the after-repair value (ARV) of the properties and not on their current prices. To estimate that after-repair value, they need to know what improvements you are planning to do. Once you provide them with a scope of work, a licensed appraiser compares your property with other homes in the neighborhood rehabbed to a similar extend. For example, let's assume that your property currently doesn't have a finished basement, but you are planning to finish it per your scope of work. The appraiser will base your after-repair value on the sold prices of homes with finished basement. Those prices are likely to be higher than the prices of homes without finished basements, increasing your ARV and potentially qualifying you for a higher loan amount.
A well-written scope of work can help you get qualified for a hard money loan.
When it comes to working with hard money lenders, the scope of work is not just a requirement. In some cases, it might become an important factor in determining whether you qualify for a hard money loan. From time to time, as a private lender, we come across applicants who are right on the borderline of our risk tolerance. How do you decide whom to approve and whom to deny without relying too much on your gut feeling? The scope of work is an excellent predictor of the applicant's general competency as a real estate investor.
Let m tell you a story. We've recently worked with a gentleman who inherited a free and clear property from his relative. The home required a major rehab. On the upside, the property was in a decent area of Frederick County, had no liens, and was practically guaranteed to be worth significantly more once you finish the repairs. On the downside, the applicant had no savings, poor credit history, no steady employment, and no rehab experience. Even more troubling, he was content to leave all communication with us to his contractor. The contractor called in with questions, helped with an application, and generally did all the talking. When we asked to see the scope of work, both fell off the face of the earth. The borrower resurfaced in a month with the most general scope of work we've seen and the renovation budget 20K over what we discussed initially. I don't think he'd even taken a look at what he was sending and clearly had no intention of managing the process. To put it in his own words, he "trusted his contractor completely to spell it out too much detail." Needless to say, we did not feel comfortable funding such a transaction.
Collaborating on the scope of work could help identify the right contractor.
Working on the scope of work with your prospective contractor might give you're a sense of their work style, attention to detail, and overall responsiveness. Most contractors thrive on ambiguity, but it's your job to make your scope of work clear and transparent. If your contractor balks on expanding certain sections or including sufficient details, it might be a warning sign. If it takes him too long to get back you with any clarifications, consider whether he has enough competency to complete the job on time and as agreed.
Of course, you have to be mindful of the type of contractor you are hiring and manage your expectations accordingly. If you are paying a full retail price, you might expect your contractor to be in charge of developing the first draft. On the other hand, if you are using a bargain-price crew, the burden of developing the SOW might rest on your shoulder. In both cases, your contractor and you should be on the same page when it comes to your expectations of quality, price, and timeliness. Such expectations should be clearly reflected in your scop of work.
Well-crafted SOW helps avoid issues with your contractor and your private lender.
The more time you put in developing your scope of work, the fewer issues you will have down the line. One of the essential documents developed based on the scope of work is called a draw schedule. A draw schedule is a document that specifies under which circumstances your contractor gets paid. It also has another function. When working with a private lender, a draw schedule defines when and how much money your lender releases back to you. Typically, a private lender keeps your construction funds in an escrow account and releases them in installments as you complete different stages of renovations. A logical draw schedule based on the well-crafted scope of work helps avoid misunderstandings and move your rehab along without unnecessary delays.
When it comes to SOW, you reap what you sow, and, yes, pun is intended. A though-out, detailed scope of work aims to define each party's responsibility, avoid conflicts, minimize risk, and harness higher ROI.