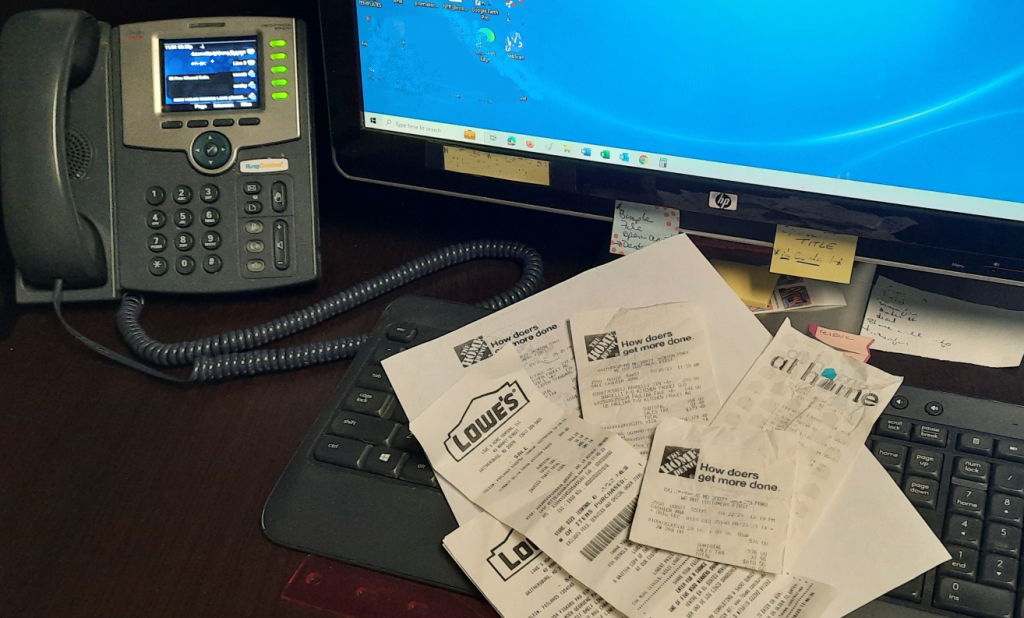 Tracking expenses is a fundamental aspect of effective project management in real estate renovation. It helps you maintain financial control, make informed decisions, and ensure the success and profitability of your investment.
Why To Track Your Renovation Expenses
Many benefits of keeping detailed records of your renovation expenses include:
Effective Budget and Draw Management:
If you are a real estate investor, your rehab project has a strict budget you need to adhere to. If you are working with a private lender like us, you probably also have a draw schedule that states what you need to accomplish to receive that next draw. By tracking expenses, you can monitor how much money you spent and compare it to the draw schedule. Overspending early in the project is the most common issue causing stress and friction with your contractor and lender. Carefully tracking your expenses from the start is a sure way to avoid those issues.
Contractor and Supplier Accountability:
If you're working with contractors and suppliers, tracking expenses provides accountability. It is an essential element of proper contractor management. It helps ensure that everyone involved in the project is aware of the financial aspect and is staying within their agreed budgets. If you contractor consistently hits you with change orders or sneaks in additional expenses that should have been discussed earlier in the process, you might want to start looking for alternatives.
Tax and Accounting Purposes:
Proper expense tracking is also essential for tax and accounting purposes. It is especially important for real estate investors paying short-term gain taxes. Keeping tabs on your expenses helps calculate the cost basis of the property and avoid being overtaxed.
Financial Planning for the Future Projects:
Accurate expense tracking helps with learning about and optimizing your real estate investment business. If it's your first fix-and-flip transaction, the insights you've gained should help you better plan and manage your next project. If you are an experienced rehabber with multiple flips under your belt, you can run a more detailed analysis on which elements of your renovation increase your ROI and which might not be worth it.
Four Best Tips on Tracking Your Renovation Expenses
So, how do you track your renovation expenses in a way that is sustainable in the long term? As always, keep it easy and keep it consistent. The good news is that you don't need any fancy software or apps to do so. Here are a few tips on becoming more disciplined with keeping with your rehab's expenses without overwhelming yourself.
Collect Receipts via Emai
When you purchase online, you receive your receipts via email. They are easy to access and reference in the future which makes it super convenient for the accounting purposes. Because of that, I've recently started to choose email receipts when shopping in brick-and-mortar stores such as Home Depot and Lowes. Switching from paper receipts to electronic receipts made my life easier and my accounting much more efficient. And I am not even mentioning eliminating all that receipt mess on my desk!
Take Pictures of Receipts That Cannot Be Sent Electronically
If a retailer is not able to provide you with the electronic receipt, the next best thing you can do is to take a picture and email it to yourself. The key is not to wait and do it right at the point of purchase. This way, you don't have to worry about keeping that pesky receipt any longer while still maintaining that iron grip on your renovation expenses.
Throw Those Receipts in the (Very Special) Box
If taking pictures of your receipts is not for you, here is an old-fashioned and time-tested solution. Keep a small box in your car to throw relevant receipts into. The key is for those receipts to avoid ending up in your pockets where they would see no light ever again. You can keep them in the box until you are ready to do a more detailed accounting.
Get Organized in Google Sheets
Google Sheets and Excel are excellent options to keep tabs on your renovation expenses and, when you are ready, to run a detailed analysis. To avoid being overwhelmed with all the expenses you need to keep track of, try to split them into more manageable parts by creating multiple sheets within the same file. For example, one sheet can contain all the costs associated with redoing the kitchen, another with finishing the basement and the third with landscaping. You can then pull the summary of all these expenses into the master sheet that totals all the costs for the entire project.
A real estate investor faces many challenges. These challenges are a part of the job description. Some of them might be entirely out of your control. You can read about them in our blog on major causes that can delay the renovation process. Tracking expenses is different. If you don't have good visibility into your spending, the responsibility lies solely on you. What is not measured is not managed. Knowing the financial details of your transaction is what separates successful entrepreneurs from one-deal flippers.