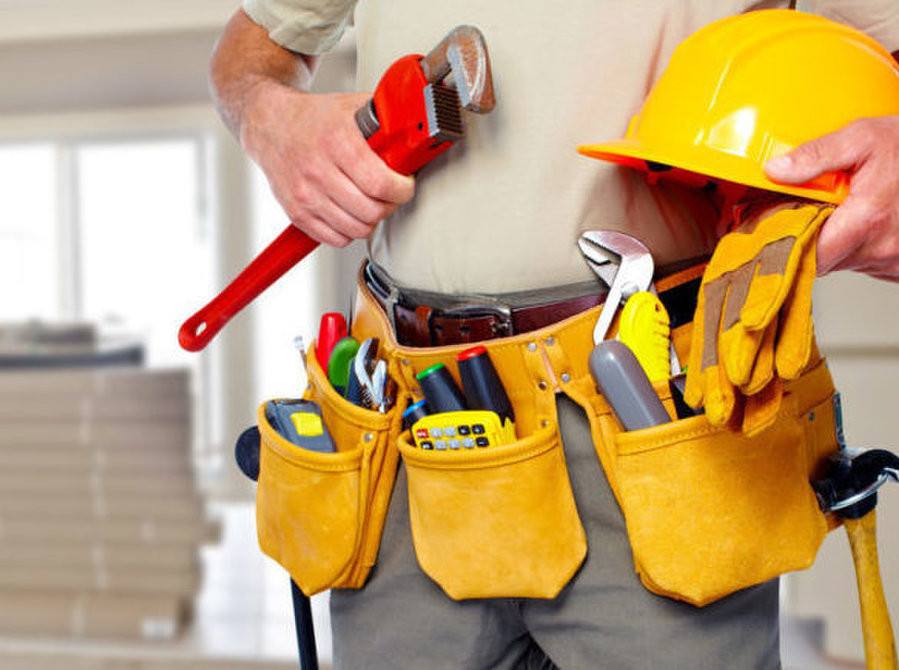 To be in real estate investing business, you need to have at least two major skills. First, you need to be a hustler. That means to be able to identify
promising fix-and-flip
opportunities and put them under contract at the right price. The second, and equally important skill, is being a project manager and having the tenacity to ensure that renovations are completed on time and within the budget. The key to this part is to know how to manage contractors so they meet your expectations. Managing contractors in a way that maximizes your profits and builds long-term relationships with good crews is our focus today.
There are at least four principles of managing contractors that you should stick to – no matter whether you've worked with them in the past or not.
1. Define (and stick to) the strategy for your rehab.
Before you delve into the details, you need to define two major aspects of your renovation. The first is whether it would require pulling permits or not. That would drive your decision on which type of contractors to use. If your property requires only cosmetic repairs, you might be able to get away with hiring an unlicensed crew. Many projects with rehab budgets between $30,000 and $50,000 fall into this category. By choosing to keep your renovations relatively simple, you lower your overall costs by being able to hire an unlicensed contractor and repaying your hard money loan as fast as possible.
However, some amazing opportunities require complex renovations. If you are rehabbing a dilapidated property in Washington, DC, chances are you will need permits and must work with a licensed crew. The worst mistake you can make is to realize it towards the end of the process or once the DCRA placed a stop order on your job.
The second aspect you need to keep in mind is your exit strategy. Whether you are planning to fix and flip a property or are keeping it as a rental will drive the style and the scope of your renovation. If you are planning to sell, you might want to focus on the visual impact that provokes strong positive emotion from a potential buyer. If you prefer to buy-and-hold, you might want to concentrate on elements that provide lasting value and are able to withstand continuous wear-and-tear.
2. Put time and thought into developing the scope of work.
Developing the detailed scope of work might be a tedious task but it's a must if you want to avoid trouble later on. Task your contractor with developing it – it's a great indicator of his attention to detail, work ethics, and professionalism. It's also is a reflection of you as a borrower. At New Funding Resources, we've long used scopes of work submitted by our borrowers as a general predictor of their performance. If a borrower struggles with producing a well though-out scope of work, they are more likely to struggle with managing the process down the line.
3. Define when your contractor gets paid and stick to it.
Talk with your contractors on when and how they get paid. Chances are they want to be paid in advance as much as possible while your preference should be only to pay for work that is already completed. Any compromise found needs to be committed to paper. If you have to advance funds at the beginning of the project, make sure that it's a relatively modest sum and covers a specific aspect of your renovation (i.e. demolition and initial trash removal). At New Funding Resources, we recommend that our borrowers separate labor and material costs and purchase materials using their own credit card. By doing that, you are lowering the risk of both intentional misuses of your funds and innocent misunderstandings.
4. Managing contractors means taking good care of your crew.
Contactors can make or break your rehab project. Just as you are concerned about being ripped off by contractors that are incompetent or unscrupulous, they are worried about doing the work and being stiffed at the end. If you find a crew that meets your expectations when it comes to timeliness, quality, and cost of their work, make sure you keep them happy and motivated. Don't sweat the small stuff, pay them on time, and, above all, keep them busy. And no matter how well they've done in the past and how happy you are with them, do not relax and over-delegate. There is nothing more constant in life than change, so to manage contractors well, make sure you are sticking to these four principles above.
New Funding Resources is a private lender in Washington, DC, Virginia, and Maryland. In business since 2006, our hands-on approach, expertise, and flexible private financing have helped investors grow their wealth while managing their risk.