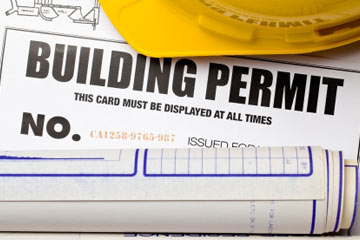 In our previous blogs, we discussed renovations projects that might require getting permits as well as the situations when you can get away rehabbing a property without them. Getting permits will almost inevitably slow you down. It will also add an extra layer of expenses to your budget. On the other hand, not getting permits when required increases your risk and, ultimately, your liability. A building inspector might not only halt your whole project until the right permits are in place but also ask you to bring your existing renovations up to code. However, the focus of this article is not to dwell on when to get permits but how to effectively manage renovations that require permits.
Let's be frank. Permits take many aspects of your rehab out of your control. You don't know whether a building inspector woke up on the right side of the bed or not. You don't know how long it would take to issue the permit and there's not much you can do about it. However, I want to focus on things that you can and must control. There are at least three of them. As a hard money lender, I've seen numerous examples when folks ran into permit problems that could have been easily avoided by keeping these three things in mind.
Make sure contractors and subcontractors that pull permits are fully licensed
If you're working on renovations that require permits, make sure that you are using contractors and subcontractors who are fully licensed. Ask for their licenses upfront and verify with the issuing authorities that those licenses in good standing. For example, in Maryland, you can do that by visiting the state's Department of Labor page.
Doublecheck on permitting process behind your contractor
Your contractor's job is managing the permit process. However, it's you who is ultimately responsible for the success of the entire project. Trust your contractor but do verify behind him. As a hard money lender, I've seen several instances when our clients assumed that their contractor had pulled the permit. In fact, they hadn't, and it was our client who was left holding the bag. Learn from the mistakes of others and keep a close eye on the permitting process. In fact, all you need to do is to check with the office that issues permits for the county your property is in. Here are the links to some of them:
Montgomery County Permits
Prince George's County Permits
Frederick County Permits
Washington County Permits
Washington DC Permits
Your permit might be for a specific purpose but do keep the entire project up to code
If your renovation requires a specific permit, make sure that everything else that your inspector sees is up to code. Having an inspector in your property is like opening a box of worms. We had clients who had to reconfigure their just-remodeled bathroom because an inspector certifying their electrical upgrades had to make a pit stop there. Do you know that there is a specific minimum distance between a toilet and vanity? Our clients didn't and their toilet and sink were way too close. The inspector mandated them to move them around so that distance could meet the county regulations. The bottom line is that if you expect any type of inspection, make sure that whoever is working on your property is at the very least familiar with the code. Also, think carefully at which stage of the renovation you want the inspector to come by and present the entire project in a way that minimizes concerns.
Managing renovations that require permits can be stressful, but it also can be profitable. Some of the strongest deals I've seen required permits to realize the property's full potential. The more complex your rehab is, the more experience you need to successfully realize your vision. As the top hard money lender in the DC area, we work closely with our borrowers to help guide them through the process.