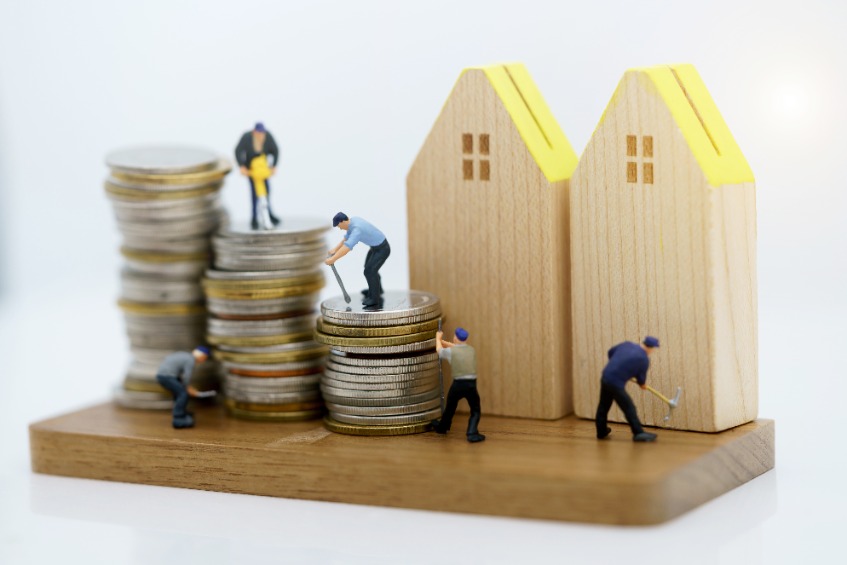 Margins on a rehab project can be razor-thin, so it's essential to set a realistic budget and stick to it. Underestimating the cost and scope of renovations could be the difference between turning a tidy profit and taking a financial hit. Spending more on a rehab than you anticipated will certainly cut into earnings, especially if the property is slow to sell once all of the renovations are completed. Going over budget is all too common in the house-flipping industry. Here are some house-flipping tips to ensure you get the best return on your real estate property investment in Maryland, Virginia, and Washington DC.
Know the After Repair Value
When setting a budget for renovations, you need to forecast the after-repair value of your project. Unless you have access to Multiple Listing Systems, ask your realtor for comps from recently sold properties in the neighborhood. For help estimating a home's value, you can play around with some online home appraisal apps.
If your goal is to price your property at the top of the range, make sure it's rehabbed to the same extent as the highest-selling comps in the neighborhood. If those properties have top-of-the-line cabinets, granite countertops, and hardwood floors, you need to match them to command the same price. In other words, a careful analysis of the after-repair value helps you determine not only the possible sales price but also the scope of the renovation you need to perform. Use these best-matching comps to help you determine the rehab you can afford and still make a profit. For help understanding your deal's profitability, use our hard money calculator.
Create a Rehab Plan
The best way to avoid going over budget on a flip is to create a detailed plan before you start. A solid scope of work is the foundation of any successful fix-and-flip because it helps you estimate your rehab costs. The start of a successful flip always begins on paper with a comprehensive SOW. Write a plan that realistically lists the nature of your rehab project, labor cost, material costs as well as the timeline to complete it. To avoid any future misunderstandings with your contractor, do not skimp on details. Make sure your descriptions of what needs to be done (and how) are transparent.
Look for Savings & Discounts
Despite your best-laid plans, expect some surprises in a flip. So, build a budget that is flexible, with padding to account for unexpected issues as they pop up. This is exactly why any successful real estate investor needs to have reserves to tap to , if needed. However, don't take advantage of this flexibility to totally disregard your plans. Stick to the budget whenever possible. Look for savings along the way. For example, when buying materials, take advantage of coupons, special offers, military discounts (if you're a veteran), early payment term discounts, or contractor discounts. If you have leftover materials such as tile or flooring, try to return them to receive a refund. But remember, if it isn't in the plan, it's not in the budget.
Add Value Without Over-Remodeling
Another way to go over-budget on a flip is to over-remodel. Of course, you want to add value to the property you're flipping. Potentially, your renovations may be necessary for function, like upgrading HVAC, roofing, and septic and well. Other changes are cosmetic, but you need to determine what renovation projects will pay off so you don't go overboard on remodeling. Ask yourself, "How can I add value to this property while using my dollars wisely?
How to Use Rehab Dollars Wisely
First, think about the property from a buyer's perspective. For an upscale flip, consider the "wow" factor and spring for a few distinctive features. What are home buyers in the region looking for? Check the comps for features like granite countertops, home offices or home gym, walk-in pantries or walk-in closets, or hardwood floors. Incorporate a few stylish features into the rehab budget. For middle-tier markets, focus instead on traditional features like energy-efficient windows, first-floor laundry, updated countertops and fixtures, and better curb appeal. For rental properties or rehabbing dilapidated houses, go with cost-effective, durable options and avoid fancy and expensive upgrades. Certainly, never try to cover up mechanical or structural problems. Instead, invest money in the necessary renovations before focusing on the extras.
Second, think about remodeling the rooms that give the most bang for the buck. Kitchens and bathrooms typically matter more to buyers than bedrooms, laundry, and living rooms. So, your renovations budget may be lopsided to add value to these two rooms over the others.
Hire the Right Contractors
Whatever rehab you plan, strive to provide quality materials and quality work. Home buyers are savvy — after all, they watch HGTV! Make sure the contractors you hire are diligent, hardworking craftsmen. Check reviews, research their companies, and interview the contractors before hiring them. Get multiple quotes whenever possible, and try negotiating on price before rejecting a contractor that could ultimately be your best partner for the flip. Only work with contractors who are licensed, bonded, and insured. Before the work begins, walk through the property with the contractor to discuss ideas and decide the best way to work with the contractor to accomplish your goals.
Stick to a Budget for a Flip
A sustainable real estate development business depends on diligent planning and budgeting. Because every investment property is different, be flexible and creative. Although the flip may not follow your plans and your budget perfectly, you'll save yourself a lot of headaches by starting a flip with a comprehensive SOW and well-developed financial estimates.
Move Fast
Staying within your renovation budget is super important. However, it's not the only way to control your costs. The longer it takes to complete your rehab, the higher your carrying costs will be. Carrying costs commonly include the cost of homeownership, such as taxes, insurance, and homeowner's association dues. If you are an investor using a private loan to finance your rehab, your carrying costs would include the interest on that loan. Rehabbing and selling a property quickly means adding tens of thousands of dollars to your potential profit.
Apply for a Fix and Flip Loan
At New Funding Resources, our goal is to help you turn a profit in real estate investment. That's why our underwriting reflects the necessary elements to ensure success. We have helped thousands of real estate investors in Washington DC, Virginia, and Maryland to build long-term wealth. Contact us today to apply for a fix and flip loan.