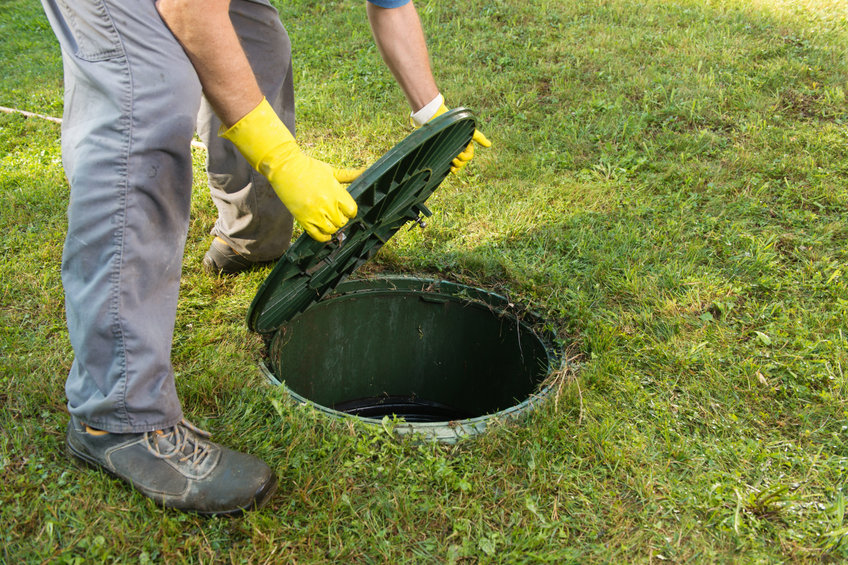 Before purchasing a house, smart investors look closely at the foundation, roof, siding, and mechanical systems like the furnace, water heater, and electricity. In the best scenarios, the building structure and mechanical systems have years of useful life ahead. In other scenarios, the house needs to be fixed or replaced.
Rehabbers in Washington DC are up to the task, as long as they know what they're getting into! Real estate investors want to avoid unwelcome surprises whenever possible. That said, private wells and septic systems should be closely evaluated before investing in a property. Unfortunately, well and septic are easily overlooked in real estate transactions. They're out of sight, so they're out of mind. What should an investor watch for when purchasing properties with septic systems and private wells?
Investment Considerations for Septic Systems
First, we'll look at septic systems. For those accustomed to the municipal sewer, you've got some learning to do. If a property is not located in an urban area, make sure that you read the listing carefully to understand the well and septic status. While it's safe to assume that a home in Baltimore or Washington, DC uses public infrustructure, homes in remote suburbs such as Frederick County, Washington County or Culpeper County could easily be on their own well and septic. Such homes often present a higher risk of escalating costs if well and septic issues are discovered later on.
Basically, a septic tank is part of an underground septic system. The septic tank holds wastewater generated by the washing machine, toilet, and garbage disposal. Solids are stored in the tank, while liquids exit into a buried drain field.
Request a Septic Tank Inspection
Local ordinances set the rules for septic tank inspection, pumping, maintenance, and replacement. Generally, a septic tank is pumped and inspected every three years and replaced after 25-40 years or longer. Inspectors check for proper drainage, ventilation, and pipe integrity. They look for clogs, leaks, or other issues. Because a home buyer can't look deep into a septic system to identify potential problems, it's important to have the tank pumped and inspected before making an offer to purchase. The inspector can determine whether the septic system is in proper operating condition.
Though real estate investors who use hard money loans often waive the inspection contingency, we still recommend making your closing contingent on a septic tank inspection. Why? Because of the sheer expense to have it replaced. Septic tanks cost $7,000 on average. A typical 1,000-gallon tank installation for a 3-bedroom home ranges could be as high as $5,000. A complete septic system, including a leach field, tank and piping can set you back $10,000 to $25,000 (click here for more details on septic system costs). The bottom line is that unexpected septic tank can expenses can practically wipe away your entire profit.
Investment Considerations for Private Wells
Second, we'll look at private wells. A private well, typically drilled to a depth of 100 feet or more, has a lifespan of 30-50 years. A well's pump and pressure tank can last about 10 years. If the house has older equipment, the investor should budget for replacements or upgrades.
Request a Water Test & Well Inspection
Age isn't the only factor affecting a well's performance. Even a new and well-kept well water system can experience problems. A well inspection by a certified inspector can identify any problems. Additionally, before purchasing a home with a well, investors should arrange a water test. County and state health departments sell safe water kits to test for bacteria or nitrates. For example, Delaware's public health department sell kits for $4 for both chemical and bacteriological kits ($2 each). Homeowners can pick up test kits weekdays at four different locations.
In addition to government agencies, commercial companies also perform water tests. To find a state-certified testing laboratory in your area, call the Safe Drinking Water Hotline at 800-426-4791 or visit www.epa.gov/safewater/labs.
Drinking Water Resources in the Washington DC Area
Washington DC Drinking Water Testing – Contact DC Water at 202-612-3440
Get the Facts Prior to Property Investment
Water and sewer play an essential role in everyday living. It's easy to take these systems for granted. But flushing a toilet, taking a shower, and doing laundry all rely upon an operational well and septic system. In the absence of municipal water and sewer, homeowners rely on individual septic tanks and private wells. These private systems lack the management and oversight of a municipality. Instead, homeowners are responsible for keeping them functioning in a safe, efficient manner.
When completing a walk-through at a property for sale, investors should pay special attention to the septic and well, hidden underground on a rural lot. Because the status of these septic tanks and private wells can't be readily observed, buyers should hire a professional with the equipment, tools, and knowledge needed to inspect them. Don't let out-of-sight be out-of-mind when it comes to making property investment decisions.
Empowering Investors in Metro DC
For more investment tips, contact our team of professionals familiar with rehabbing homes in Metro DC. We are happy to guide you through the property evaluation process and empower you to invest in real estate projects that work for you.