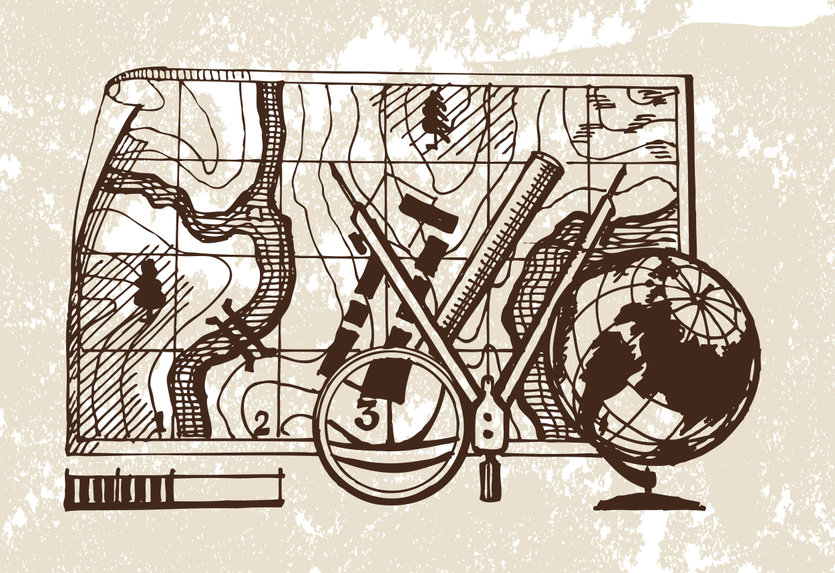 Knowing your property's boundaries can make or break an investment opportunity. Most investors have a general idea of where a real estate property begins and ends. But how can they be sure? Real estate investors can get the facts they need by having the property surveyed.
Why do I need a property survey?
You need a property survey to ensure the property you are buying does not have hidden defects that will come to haunt you later. Sometimes the seller is genuinely not aware of those defects, and sometimes, they do know and don't want you to find out.
Let me give you a couple of examples when we were fortunate to find those defects before closing.
A good client of ours was buying a property in Charles County surrounded by a state-owned forest. The seller was a commercial company specializing in tax sales: the sale of real estate due to unpaid property taxes. Together with a marketable title, the company helpfully supplied a detailed boundary survey that they've recently ordered and paid for. At first glance, ordering a survey at your own expense looked like an extra-diligence gesture to show good faith to a potential buyer. But not so fast.
The survey showed a land-locked plot with no access to a public road. There was an easement leading to the road, however, it was marked as "proposed." Wait a minute! What do you mean by "proposed?" Is there currently an easement or not? The truth is there was NOT an easement, and the seller somehow convinced the surveyor to put it there.
Here is the problem with buying a land-locked property with a "proposed easement." It would be a responsibility of a buyer to make it a reality. That included negotiating that easement with neighbors, paying those neighbors for it, and, finally, officially documenting it with the proper authorities. What does it take to do it? Time and money – and both are scarce commodities for real estate investors on narrow margins.
Here is another example of when our diligence uncovered issues with the land before the closing. Our borrower put a sweet deal in Cecil County under contract. The seller owned several adjacent plots next to it. Our legal council wanted to have a better description of what exactly our borrower is buying, and the seller offered him an old survey to review. That old survey revealed access to the public road that went straight through the neighbor's plot. It was also visible on Google maps. "Don't worry," says the seller, "There is not an official easement, but we've been using that road forever." The buyer's agent reached out to the neighbor on several occasions to make an offer to make the easement official, but the neighbor demurred. Interestingly, the seller itself (who owned the adjacent plots) was not keen on making an official easement through his land either. Apparently, the deal wasn't as sweet as our borrower initially believed!
What does a property surveyor do?
Determine & mark legal boundaries
A survey determines the legal boundaries of a property. A surveyor actually goes out to the property, takes measurements, and establishes the property lines. He or she flags existing boundary markers or replace them. Surveyors sketch out the property and create a map that includes boundaries and other characteristics. They research the property's history and update the legal description if needed.
Map out topography
Surveyors also complete a topographical survey. They determine the contours and exact elevation of a property, plus its flood map location. The land's topography affects design plans and costs for any new structure constructed at the site. Additionally, it affects the rates for flood insurance premiums.
Reveal right-of-way or easements
A survey also reveals any right-of-way or easement agreements associated with a property. For example, the property owner might share a driveway or alleyway with a neighbor. Additionally, a railroad or utility may have an easement to lay tracks or install electrical wires. Unlike in the cases we described above, right-of-way and easements aren't always deal-breakers. However, it's important that buyers are aware of these legal stipulations before investing.
Evaluate Existing Structures and Improvements
Another thing that a survey can do for you is to certify that the buildings and other improvements, alterations, and repairs to your property that exist at the time of the survey are not in violation of laws or other restrictions. Typical restrictions on residential property can include height, dimension, building lines, and set-backs.
Surveys also report your zoning jurisdiction and classification.
When do I need a property survey?
Typically, you don't need a survey for a property located in platted subdivisions. A subdivision plat is created when the original owners of a land (typically a real estate developer) decide that they want to separate their land into smaller lots. Most densely-populated areas in DMV, such as Washington, DC, Bethesda, Rockville, Arlington, Frederick, Baltimore City, would fall into this category.
An exception to this rule could be illustrated by a recent transaction we closed in North Potomac, where our borrower was buying out his long-time partner. The property at hand was an old farm near Dufief Mill road that our borrower planned to subdivide into several plots and sell to builders. In such a case, ordering a detailed survey becomes an essential key to success.
It's also common to request a survey for properties located in rural areas or outside of platted subdivisions in distant suburbs.
Are there different types of surveys?
Yes, there are different types of surveys. The most common one is called a "Location Survey." A Location Survey shows the location of the improvements on the property in relation to its boundary lines as well as official easements and right-of-ways. It generally involves a physical inspection of the property and is accurate to plus or minus a few feet. The location survey should not be used for the purpose of identifying the property's boundary lines.
A more extensive survey is called the "Boundary Survey." It is used to identify a property's boundary lines. In this type of survey, the surveyor will set mark the property corners and produce a detailed plat or map. To do so, the surveyor will research the public records and do research in the field, take measurements and perform calculations. A boundary survey can be expensive and is typically needed only for construction and permit purposes.
There is also another type of survey called the "ALTA/ASCM Survey." It's used for commercial closings.
How do I know which type of survey I need?
If you need a survey, we will let you know during the pre-approval process. It would be one of the conditions clearly stated on your Letter of Intent. At New Funding Resources, if a survey is required, it's typically a location survey to identify potential issues with encroachments or easements. You don't need to find or wet your own surveyor. Our property surveys are arranged through title companies, and the survey fee is included in the closing costs. The average cost of a survey in the DC area ranges from $250 – $450.
At New Funding Resources, we work hand-in-hand with our borrowers to minimize their risk. Advising them on when to get a survey is one of the examples of how we leverage our local expertise to look out for your interests. We believe that a successful real estate investor is an informed real estate investor. A survey done prior to closing can offer peace of mind or, on the opposite, raise red flags about the validity of the entire transaction.