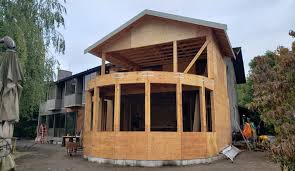 In our previous blog, we've discussed the need for the new out-of-the-box thinking when it comes to rehabbing properties for profit in 2020. Specifically, we talked about how to add significant value and increase the price of the property by expanding its size. However, not every property profitably lends itself to such expansion. Also, not all real estate investors can carry out such renovation successfully. Here are several factors to consider when selecting the right property to expand and a few questions to ask yourself when deciding whether you're ready to tackle such a project.
Make Sure There Are Comps
Whatever the type of expansion you're planning, make sure that there're other rehabbed properties that are similar to the end product you're envisioning. If your property's located in a homogeneous neighborhood with cookie-cutter homes, it would be challenging to justify a much higher value regardless of how big and beautiful your renovation is. That's why the size expansion strategy works particularly well in DC: the density is high and there are completed rehabs for every size and budget.
However, this strategy can also work in many older neighborhoods that are undergoing some sort of Renaissance. Why older? Because the chances are that many original homes have already been expanded to accommodate the modern tastes and standard of living. These renovations can serve both as a blueprint for your own rehab and as comps to appraise your property after you've completed the renovation. Why Renaissance? Because you know you deal with buyers that demand larget homes and have money to pay for it.
Know Thy Buyer
One example of such neighborhoods is our recent deal in Takoma Park. We're working with a brand-new client looking to rehab a property she's picked at the auction. The smallest property in the cluster of homes, her house was not offering enough profit margin unless she tackled a major expansion. Uncharacteristically, we were challenged to come with a precise after-repair value since there were so many rehabs of different styles and sizes within a half-mile radius. The most expensive property was a super modern home that looked like it came off pages of the Architectural Digest: all windows, lines, and angles. It set by far the highest comp in the neighborhood, but the scope of its renovation could be difficult to match while keeping an eye on the profit. More modest rehabs in the neighborhood were also $50K to $100k apart from each other depending on their unique styles, lots, and the renovation quality.
Takoma Park is a unique neighborhood. It used to be a working-class area but things are changing rapidly. I've rehabbed two properties there last year and sold each of them to mid-career doctors. Both of them were extremely demanding buyers inspecting each detail of the rehab with the magnifying glass. Not only they wanted value, but also quality and style. And of course, the Takoma Park original homes would have been too small for their tastes.
Similarly with Takoma Park, many other Maryland neighborhoods just across the DC lines are seeing the influx of the well-heeled buyers. These buyers are looking for a better value than DC can offer, but are not ready to move-in into any repainted cape cod home. They are the driving force behind more elaborate rehabs in certain neighborhoods that focus on expanding the original footprints of older homes.
Know Thy Regulations
When considering a property expansion, make sure it complies with the neighborhood regulations. Almost any type of home addition will require permits, and any type of permits are bound to increase the overall cost and complexity of your project. If you're planning to expand up, make sure the code in this particular neighborhood allows it. If you're planning to finish the attic, make sure you can obtain the required permits and the permission of the homeowner's association.
Know Thyself
Of course, much of the success depends on one single factor – your ability to effectively manage all moving parts. A rehab that expands the size of the property is more complex and costly than a simple TLC renovation. Because of the increased costs and complexity, it's riskier: many more things can potentially go wrong. Make sure you have enough experience and enough cash to meet and rise above those challenges. If it's your first rehab, it might be wise to avoid large scale projects until you gain more confidence in your general contractor, your other vendors, and, most importantly, yourself. However, if you already have a couple of rehabs under your belt, strategically expanding the size of your property might be a way to combat the shrinking margins and come out ahead of the competition.
New Funding Resources is a private money lender that works hand-in-hand with real estate investors rehabbing homes in the DMV area. From Chantilly to Silver Spring, from Hyattsville to Germantown, we have the practical experience and awesome private financing to help you thrive. Ready to roll? Call us 240-436-2340 today.