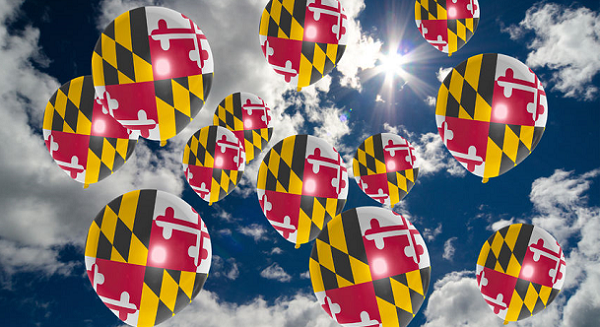 I love living in Maryland. This is my kind of state – close to everything. You want to be near the mountains? You've got the Allegany's. Love the ocean? Check. Want to enjoy the culture? The free museums are hard to beat. But above all, I love doing business in Maryland.
By the very nature of our business, we are connected both to Maryland's real estate and its economy. We've funded hundreds of hard money loans in Maryland. The local real estate market offers unique opportunities for different types of real estate investors. So it's great both for folks who are just starting out with a modest fix and flip to those with a sufficient experience and a nest egg to tackle a major renovation.
1. Income stability translates into real estate stability.
The Maryland economy depends heavily on the government. The majority of its population is employed directly by the government or depends on government contracts. As a result, our area is partially protected from extreme economic swings that might affect the rest of the country.
2. Maryland offers investment opportunities for every budget.
For new real estate investors applying for hard money loans in Maryland, we recommend starting with a modest project. By "modest" I mean keeping your purchase price under 175K. We also recommend capping your renovation costs at 30K. If you keep your eyes peeled, you could come by a great opportunity within this range in Prince Georges, Frederick and Baltimore counties. Increase your budget just a bit and you might be on track to snatch a decent buy even in Montgomery county, close to Germantown, Montgomery Village or Takoma Park.
3. When it comes to rapid gentrification, Maryland is no Washington DC, but it does have some pockets where prices are rapidly increasing.
For example, one of our investors was lucky to snatch a dilapidated property on the PG side of Takoma Park. The Montgomery county line right behind his backyard. After nine months of renovations he was pleasantly surprised to discover that his rehab's after-repair value increased more than 80K. Another example of rapidly changing neighborhoods is Baltimore County. Many areas there are still depressed, but Business Insider has recently named Hampden one of the Ten Hottest US Neighborhoods in 2016.
4. Home prices in Maryland are generally high compared to rents, but if you find a right property in the right neighborhood you can still make it work.
Around DC, Prince George's county offers the highest renter population and the most favorable price to rent ratios.
Maryland offers a unique opportunity to build wealth. However, there is no free lunch. So you've got to be consistent, persistent and mindful of risks. Let us know if you are interested in investing in a certain neighborhood. We've been writing hard money loans in Maryland for over 10 years now and will gladly expand on our philosophy of investing here.