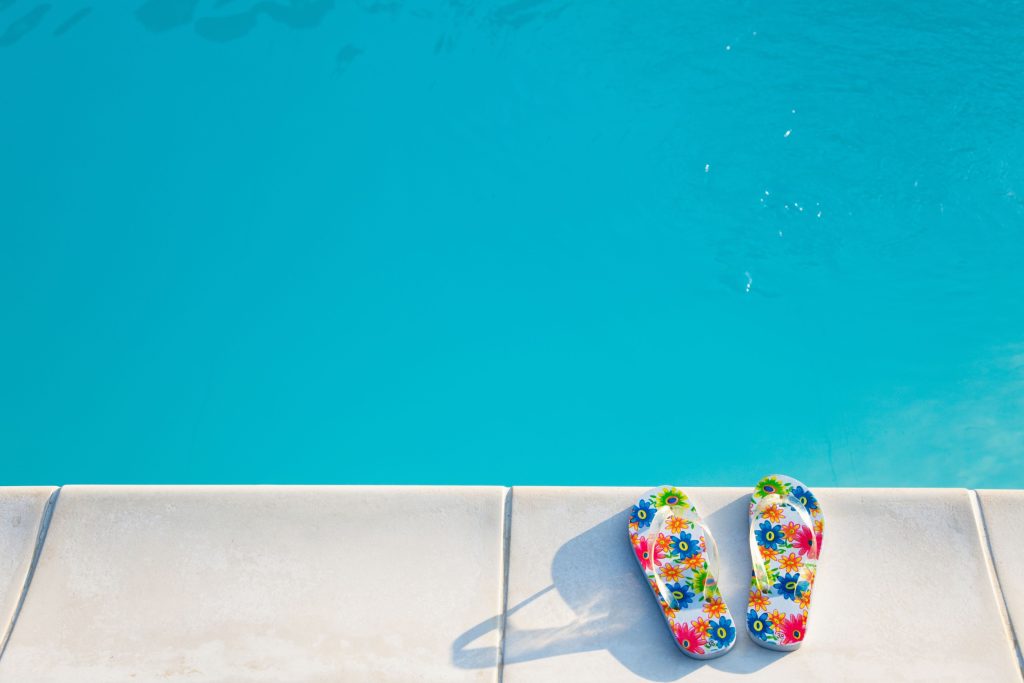 I am writing this blog on the last day of summer. The upcoming weekend is Labor Day. Our community pool will close on Monday with a big bang: the traditional dog swim. Perhaps it's a sign that I am not quite ready to say goodbye to summer, but today, I want to talk about swimming pools and their impact on your renovation project.
Admittedly, swimming pools are less ubiquitous in the DMV area than in southern states such as Florida or Georgia. However, we have hot and humid summers, and it's not uncommon for homes in Maryland or Virginia to have a pool where their owners can escape from summer heat. As a real estate investor looking for a home to fix and flip, you will soon run into a property with one as well. Then, you will have to decide whether having a swimming pool will add value to your project and make it more appealing for potential buyers or, in contrast, will complicate your project and add additional costs.
Let me not beat about the bush. As a rehabber, I view having a swimming pool as a complication and not a benefit. Distressed properties that require thousands of dollars in repairs rarely come with well-maintained pools. The previous owners often gave up on them long before they gave up on the house. If a property is in bad shape, the shape of a swimming pool will be even worse.
But "never say never." Perhaps, you will luck out and inherit a beautiful and functioning swimming pool. Here is what to look for when examining a swimming pool in your potential rehab.
How to inspect a swimming pool for issues:
When inspecting a swimming pool for issues, it's important to thoroughly assess different aspects of the pool to ensure its safety, functionality, and overall condition. Here are some key areas to focus on during the inspection:
Structural Integrity: Check the pool's structure, including the walls, floor, and coping (the edge where the pool meets the deck). Look for cracks, chips, or any signs of deterioration that could indicate structural problems.
Pool Deck: Inspect the area around the pool for any uneven or cracked surfaces that could pose a tripping hazard. Make sure the deck is in good condition and properly sloped to prevent water runoff into the pool.
Water Quality and Clarity: Observe the water quality and clarity. Murky or discolored water could indicate filtration or chemical balance issues. The water should be clear and clean, without a strong chlorine odor.
Pool Equipment: Inspect the pool's equipment, including the pump, filter, heater, and any automation systems. Make sure they are in good working condition. Check for leaks, unusual noises, and signs of rust or corrosion.
 Pool Liner or Finish: If the pool has a liner or a specific finish (such as plaster), inspect it for cracks, tears, or signs of wear. A damaged liner or finish could lead to leaks.
Tiles and Grout: Examine the tiles and grout around the pool for any damage or missing pieces. Damaged tiles could be a sign of water infiltration behind them.
Skimmer and Drains: Check the skimmer and drains for debris buildup. Ensure that they are functioning properly and not blocked, as this could affect water circulation.
Safety Features: If the pool has safety features like a fence, gate, or pool cover, inspect them to ensure they are in compliance with local regulations and are working effectively.
Electrical Components: If the pool has lighting or other electrical components, check for any exposed wires, frayed cables, or signs of electrical issues. Safety is paramount when dealing with electricity and water.
Once you've identified an issue, it's time to figure out the costs to fix it. Of course, you can potentially do the entire rehab without addressing the pool issues and list the property "as is." By doing it, you are effectively attempting to pass the problem to your buyers, limiting their pool (no pun intended here) and potenitally reducing your price. Here are quick tips on how to get your swimming pool issues assessed without getting ripped off.
How to get a solid quote for your swimming pool issues:
Getting the best quote to fix a swimming pool involves research, communication, and careful consideration. Here's a step-by-step guide to help you get an accurate and competitive quote for fixing your swimming pool:
Identify the Issues: Before reaching out to pool repair professionals, make a list of the specific issues you've identified during your pool inspection. Clearly describe each problem so that the contractors can provide accurate quotes.
Research Local Pool Repair Companies: Look for reputable pool repair companies in your area. You can ask for recommendations from friends, family, or neighbors or search online directories and review platforms for highly-rated professionals.
 Contact Multiple Contractors: Reach out to several pool repair contractors to request quotes. Provide them with detailed information about the issues you've identified, the size of your pool, and any other relevant details. Make sure to provide the same information to each contractor for consistency.
Request Detailed Quotes: Ask for detailed quotes that break down the costs for each aspect of the repair work. This should include labor, materials, equipment, and any additional fees. This breakdown will help you understand where the costs are coming from.
Compare Quotes: Once you've received quotes from multiple contractors, compare them carefully. Don't automatically choose the lowest quote; consider the reputation of the company, the quality of their work, and their experience.
Check for Licensing and Insurance: Ensure that the contractors you're considering are properly licensed and insured. This protects both you and the contractor in case of accidents or issues during the repair process.
Ask for References: Request references from previous clients who have had similar repair work done. Contact these references to inquire about their experience with the contractor's work quality, reliability, and professionalism.
 Clarify Scope and Timeline: Make sure you have a clear understanding of the scope of work and the expected timeline for the repairs. Ask questions if anything is unclear.
Negotiate and Clarify: If necessary, negotiate the terms and pricing with the contractors. Clarify any points you're unsure about before making a decision.
Avoid Upfront Payments: Be cautious about contractors who require significant upfront payments before starting the work. Reputable contractors usually ask for a reasonable deposit with the remainder paid upon completion.
Written Agreement: Once you've selected a contractor, make sure to have a written agreement that outlines all the details of the repair work, including costs, timelines, materials, and warranties.
Sometimes, the cost to fix your swimming pool might be more than you've anticipated. In such a case, your decision on whether to fix it or take another route might depend on two factors. The first factor is whether you have funds in reserves to fix them. The second factor is whether it makes sense to fix those issues. If you feel that the increase in price due to a property having a functioning swimming pool exceeds the money and effort you put into those issues, then the answer is to proceed with the repairs. If you feel that addressing those issues is more trouble than they are worth, then consider removing the pool altogether.
How to determine the value a swimming pool adds to the property?
Determining the value a swimming pool adds to a property involves research, data analysis, and understanding the local real estate market. Here are steps you can take to help determine the value a swimming pool adds to a specific property:
Research the Local Market: Start by researching the local real estate market in the area where the property is located. Look for recent sales of properties with and without pools.
Identify comparable properties (comps) similar to the property you're interested in. These should have similar characteristics, such as size, location, and condition, but differ in whether they have a pool.
Note the sale prices of these comparable properties with and without pools. This will give you a baseline for assessing the potential value of a pool.
Calculate the Pool Premium: Calculate the price difference between properties with pools and those without. This difference is often referred to as the "pool premium."
 To get a more accurate estimate, calculate the pool premium as a percentage of the property's sale price. For example, if properties with pools typically sell for $20,000 more than those without, and the property you're interested in is $400,000, then the pool premium is 5% ($20,000 / $400,000).
Assess the Pool's Condition and Features:The condition and features of the pool itself can affect its value. A well-maintained, aesthetically pleasing pool is likely to add more value than one in poor condition.
Consider additional features like poolside landscaping, decks, or outdoor entertaining areas, as these can also impact the perceived value.
 Consult Real Estate Professionals: Real estate agents and appraisers who are familiar with the local market can provide valuable insights into the specific value a pool adds to a property. For example, if you already ordered an appraisal, looks at your appraisal report to see the pool variance suggesed by the appraiser.
Consider Buyer Preferences: Understand the preferences of potential buyers in the area. Some buyers may view a pool as a valuable amenity, while others may not prioritize it.
Of course, there are instances when the best decision is to remove the swimming pool altogether. The cost to remove an in-ground pool can vary widely depending on several factors, including the size of the pool, the location, the materials used in its construction, local labor and disposal costs, and any additional considerations specific to the property. On average, the cost to remove an in-ground pool can range from $5,000 to $15,000 or more. You must also budget for landscaping to make that former pool area more appealing.