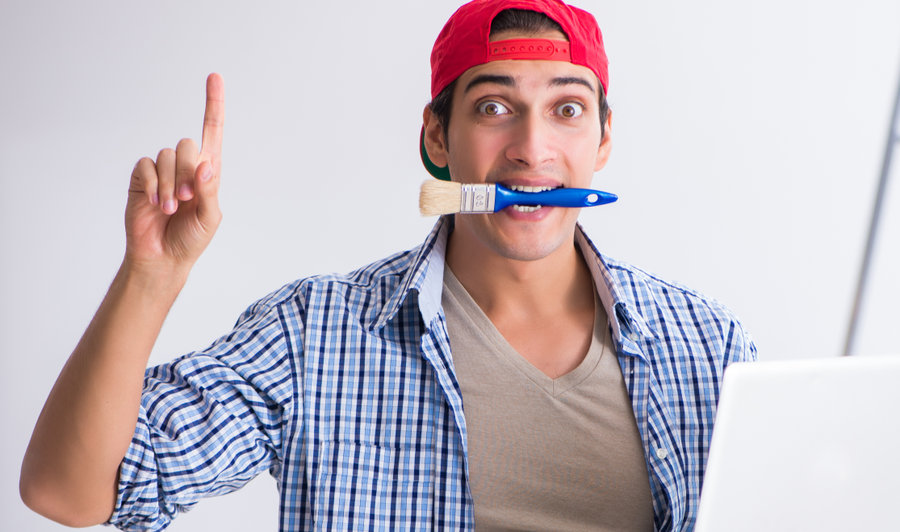 Are you looking for reliable and affordable quality contractors for your next fix-and-flip? Let me be blunt: I hope you already have some reliable leads to explore. Perhaps, you are a real estate agent who is helping your buyers make money flipping homes and have built relationships with their crews in the process. Perhaps, you have your own contracting business and are looking to expand into real estate investing. Or maybe you are a homeowner who just completed an extensive renovation on your primary residence. You've enjoyed the process and had a chance to build a relationship with an awesome contractor. Both of you are now ready for more projects together. If any of those scenarios is the case, congratulations: you might already have an important component to your business success.
However, even an experienced rehabber might find herself at times without immediate access to a reliable crew. His or her regular crew might be busy with other projects, unwilling to travel to a certain location, or simply no longer available. What are the best venues to find a home improvement contractor in a bind? Here are at least eight ways.
Inquire with your specialty contractors
If you are looking for a jack-of-all-trades type of contractor, start your inquiries with specialty contractors you have relationships with. Your HVAC guy or that licensed electrician you've worked with in the past are in the perfect position to come in contact with general contractors. Describe to them what you need. The contractor you need might not need to be licensed or have perfect English – they just need to be reliable, honest, and produce quality work.
Put out feelers with your friends, neighbors, and co-workers
Have any of them recently had any home improvements done? What was their experience? Their jobs might have been small: they might have redone their powder room or repainted the house, but each lead counts.
Ask at home improvement stores such as Lowes, Home Depot or Floor & Decor
I personally had very good luck in getting solid leads out of these stores when redoing a basement at my property at Deep Creek Lake. With the location being more than two hours away from where we typically operate, I knew there was no way my regular crew could be enticed to go there. I called the local Lowes looking for the guy who had re-done our kitchen seven years ago. Not surprisingly, no one heard his name. Instead, I got a couple of other names to reach out to and eventually chose one of them for my project. Do not give up on your first attempt to drum up the leads from those places since much depends on whom you talk to. "Organize your luck" by physically working around the store or getting in touch with managers in different departments. If you call them, you might need to call several times and talk to different people – some are more helpful than others.
Drive around the neighborhood looking for actively working crews
A sure way to find a contractor is to go directly to the well: if you see a crew working, stop by, introduce yourself, and exchange contact information. Many crews struggle to find a consistent flow of work. Trust me, they will be interested in chatting with you or, at the very least, in putting you in touch with someone who is in charge.
Talk to permitting office
I suspect this venue works better for less-busy permitting offices, but a permitting office in Garrett County was a treasure trove of information for my home improvement project. When I called them to arrange for a plumbing permit, the permit manager's comment on my choice of a plumber was that "half of Garrett County builders work with him and the other half wish they could." Wow, what a confidence booster! "Those guys know every contractor in town, I should have started with them," was my first thought. You live, you learn.
Solicit advice from your realtor
If you are working with a real estate agent, he or she might have some recommendations for you. If they don't know anyone directly or are reluctant to take on the responsibility of recommending someone, ask them to drum up some leads from their office. All you need is a couple of names to get going.
Make a phone call to your homeowner's association
I will be the first to admit – many associations are pretty useless for any type of advice or guidance. But in your quest for good contractor leads, you can leave no stone unturned. If they cannot recommend a contractor directly, try another approach. Perhaps, they know of any neighbors who've recently done some home improvements and can share their experience with you.
Try social media
It might be a low yield source, but it allows you to cast a wide net. Many small-scale contractors don't have websites and rely heavily on social media. You might also try such apps as NextDoor which operates a hyperlocal social networking service for neighborhoods.
Keep your leads organized
To find a reliable contractor to help boost your real estate business, the more leads you have, the better. The worst thing you can do is to keep sticky notes or other ad hoc notes with their contact information. "Oh well, I will get them organized later," you might think. Trust me: things will start getting messy pretty quickly and you are at risk of losing the best leads. Create an excel spreadsheet with all the names and their sources. Some on your list would not return your phone calls. Others would not be interested in meeting with you unless you have a property under contract. If you are serious about making it in the real estate business, never stop prospecting for new contractors, plumbers, and electricians. Keep detailed notes on your interactions with them and your impressions. And have those contractors ready to go well before you ratify that contract.
New Funding Resources is a private lender that works with real estate investors in Maryland, Washington, DC, Virginia, and Delaware. We actively share our expertise in the DMV real estate market and pride ourselves in cultivating a long-term mutually beneficial relationship with many of our borrowers