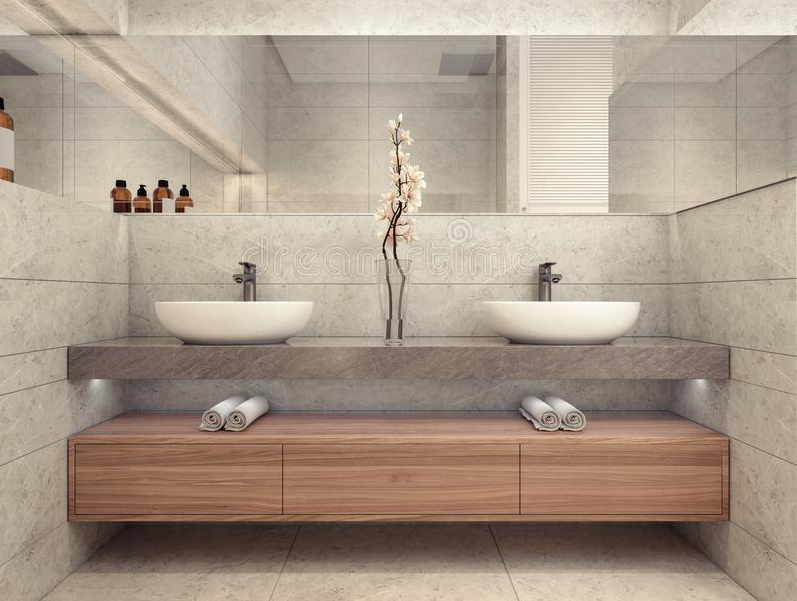 The bathroom may not be the most glamorous room in the house, but that doesn't mean that D.C. property rehabbers should ignore this small but important room. Actually, remodeling a bathroom can be an expensive home renovation project. Since the bathroom has so many fixed appliances like the bathtub, shower, sink, and toilet, it can be costly to replace everything. According to HomeAdvisor, the average bathroom remodel costs around $11,183 as of June 2022. That estimate covers a complete tear-out and replacement of fixtures and appliances for an average bathroom. Rehabbers tackling a large master or high-end bathroom in Maryland, Virginia, and Washington D.C. can expect to spend $16,000-$28,000.
Make Bathroom Remodeling a Priority
Despite the cost, a bathroom remodel should be a top priority for house flippers. After all, the bathroom is one of the most-used rooms in a home. Thus, an attractive, well-lit, and updated bathroom can be a difference-maker for potential home buyers. New fixtures, flooring, cabinetry, vanity, toilet, and shower/tub add value to a house and consequently, up the selling price. That said, house flippers still need to stick to a budget in order to turn a profit.
Bathroom Remodel Needs vs. Wants
The first step in a bathroom remodel is the planning stage. Create a plan, set a timeline, and draw up a budget. A solid scope of work is the foundation of any successful fix-and-flip. Careful planning saves money in the long run because you don't waste time redoing work or dealing with delays as you return materials and buy new ones. When planning a bathroom remodel, make a list of needs and wants.
Determine the customary bathroom remodel standards for the property in this location. It's relatively easy to do. As a rehabber, it's likely that you already have a desired after-repair value of the property in mind. Hopefully, it's based not on wishful thinking but on the recent sales prices of other homes in your neighborhood. Look at the comps you like the best. How do THEIR bathrooms look? Chances are, you need to make your bathroom look at least as good as theirs to get the highest price.
Determine what you need to replace because it's broken, leaking, or detrimental to the success of the house flip.
Determine what you want to replace because it's ugly, outdated, or otherwise likely to fall short in the eyes of the buyer, even if it's still functional.
Determine if you can maintain the current layout because you can save time, money, and labor by keeping the plumbing and electrical the same. Making changes to the layout can make your bathroom look more appealing and be more functioning, but it can easily add another $5K or more to your cost if pipes need to be moved. Bring your plumber early on to see if this could be an issue.
Determine if cleaning can be an alternative to replacing. For example, clean the shower's tile and grout or clean and refinish porcelain or fiberglass tubs. Perhaps a good cleaning saves you the time and money otherwise spent on unnecessary remodeling.
Bathroom Demolition & Replacement
The second step in bathroom remodeling is demolition. Once you have made your plan, carry it out by removing whatever needs to go. The third step in bathroom remodeling is replacing fixtures and appliances. A reliable, affordable contractor can help with this phase but do maintain some degree of control. When it comes to fixtures, every little thing can make a dramatic change. For example, a new faucet or towel rack can give the bathroom a fresh, modern look.
For this reason, my recommendation would be to separate the costs of labor from the costs of materials. If you lump them together, your contractor has no motivation to choose a more upscaled version over the builder-grade version. You might end up with a cookie-cutter bathroom that lacks the flair and style to command the highest price.
Hints for Replacing Bath Fixtures
Toilet
For some rehabs, unless the toilet leaks, wobbles, or has cracks, consider keeping it. Instead of paying $200 or more for a new toilet, simply replace the toilet seat and lid for $30-$50. By doing so, you not only save money. You also avoid so much time and hassle involved with replacing a toilet during your bathroom remodel.
For more upscale renovation projects, it would be unthinkable not only not to replace the toilet but also to replace it with a commode that is middle-of-the-line. Only the best would do! Again, look at your comps, and follow their lead.
Tubs & Showers
Shower enclosures and bathtubs run the gamut. To save money, try as much as possible to work with what's already in the bathroom. If you decide to make a change, look for cost-effective fix-and-flip strategies. For example, a shower curtain is cheaper and easier to install than a shower door. However, shower doors are practically de regieur in the majority of renovations in Washington, DC.
Showerhead
A new showerhead not only looks good, but becomes a selling point because everyone loves an invigorating shower! When replacing a showerhead, handles, and spout, consider buying a set, called a trim kit, so all the fixtures match. Plus, you're likely to save money on a set versus individual bath fixtures.
Bathroom Cabinets
As for bathroom cabinets, you can save hundreds of dollars by painting or refinishing, instead of replacing them. If the cabinet doors are beyond repair, consider replacing the doors but keeping the cabinet boxes. Maybe you can get by with new handles only.
The upscale renovations might require cabinets that are not only luxurious but custom-made to fit the space. If this is the case, make sure your budget not only extra dollars but extra time as well.
Paint, Lighting, Flooring
The cheapest way to change the look of the bathroom is with new paint and new lighting fixtures. For flooring, you can select a low-cost laminate or vinyl flooring. However, keep in mind that the majority of the DMV buyers do expect tile in their bathrooms, even when it comes to starter homes. Consider using larger-size tiles but talk to your construction crew first. Larger-sized tiles expand the space visually but might require more handling and cutting to fit the space properly.
Contact New Funding Resources
A fix-and-flip bathroom remodel shouldn't cost a small fortune. With good planning and well-priced fixtures and appliances, you can effiecinelt remodel any bathroom, regardless if it's a modest home in Hagerstown or an upscale renovation in Upper Marlboro. For more tips about rehabbing properties in Maryland, Virginia, and Washington D.C., contact New Funding Resources. We empower real estate investors, contributing to successful fix-and-flip investments.