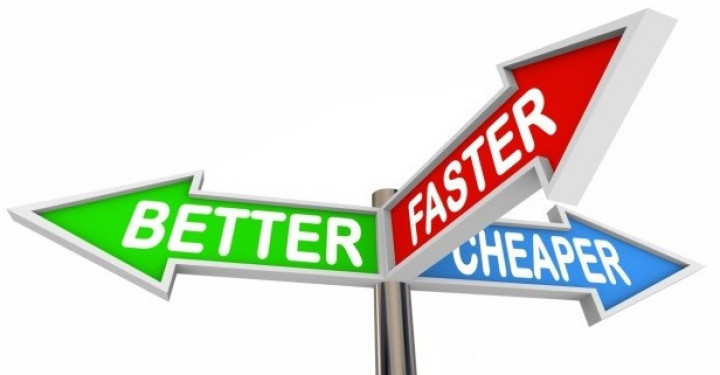 Hard money loans offer unparalleled leverage, speed, and flexibility—something that conventional lenders cannot even come close to. To compensate for the risk, private lenders charge more for their money, making their loans more expensive than those offered by traditional lenders. If you are one of the traditional lenders, the only advantage of your product is the price you charge.
Imagine you are marketing to a consumer shopping for a specific style of shoe. It's like having the best prices around but offering only size 4 ½—in men's sizing. You can say to your buyer: I know that it's not the size you want, but aren't you dismayed by what my competition charges for the sizes 8 through 12? Hey, it's the same shoe, mine is just smaller, not a big deal. It's not exactly what you need, but perhaps your cobbler can help?
Ridiculous, I know. It's for the same reasons that hard money lenders rarely compete with other types of rehab financing. The most mentioned alternative is FHA's 203K loan. The truth is that this "alternative" is not even an alternative: 203K loans are designed explicitly for renovations of owner-occupied properties. The only loophole is to purchase a duplex or a four-unit property (FHA would not lend on anything with more units than four) and move into one of the units for at least a year. Of course, you need to have a score and income high enough to meet the FHA underwriting standards. Besides, you will need to sell or rent your primary residence, change the address on your driver's license, redirect your mail, and move your family to the designated unit. Technically, it's an option, but—surprise!—few rehabbers take it.
I am writing this blog during one of the longest government shutdowns in US history. Ironically, FHA 203K type loans are not being processed at all. The regular FHA mortgages are still being issued, but borrowers are advised to expect major delays. This is not good news for the housing market in general, but, if you uprooted your life and now cannot pay your contractors, it's a disaster.
Fannie Mae's Home Renovation Program
Another type of loan that sometimes gets mentioned as a rehab financing option is Fannie Mae's Home Renovation program. The major difference between it and the 203K financing offered by FHA is that it actually does allow for true investor financing (as long as it's only a single unit). Interestingly, one of our good customers has recently tried to use this program. To call that borrower an extreme penny-pincher is an understatement, and I mean in it in the most affectionate terms. Being a successful rehabber means taking every opportunity to control your costs and that guy is a master of it. He is also one of the few borrowers who actually fits into the Fannie Mae strict underwriting criteria. Among the requirements are credit scores above 680, debt-to-income below 42%, less than 10 properties in the overall portfolio. In other words, if that guy cannot take advantage of the program, no one can.
The issues started as soon as he began to read the fine print on managing the rehab. You must work with a contractor who is not only fully licensed but also is approved for the Fannie Mae rehab program. Really? He has his own crew. They might not be the most polished guys, but they are reliable and inexpensive. Also, can you imagine how much those Fannie Mae-approved rehabbers charge?
This just the start. You need to get permits for everything.  You need to use Fannie Mae-approved contracts. You are to keep meticulous records and are only compensated for the cost of materials you have receipts for. If you are using supplies or fixtures left from previous jobs, you will not be compensated for them. No sweat equity allowed. The loans have terms of 15 to 30 years, so no worries if it takes time to release your construction draws—you have the remainder of your life to wait for them. Fannie Mae will only lend 85% loan to costs and will charge you mortgage insurance. In other words, it might appear to be a great product, but—using our earlier "shoe" example—it's not what a rehabber needs. As soon as you scratch the surface, you discover for each savings in interest rate, you will occur more costs in other places.
Contact New Funding Resources for Hard Money Loans in MD, DC & VA
As the old saying goes, "Free cheese is only offered in the mouse traps." I am not saying those lenders are trying to entrap you in any way. They know they are not set up to compete with private money and, frankly, with all those consumer loans they write, they have a bigger fish to fry. Hard money loans are more expensive for one and one reason alone: despite charging more in interest, they are still the best and the smartest way to make money in real estate.
To learn more about our hard money loans, contact the professionals at New Funding Resources today.