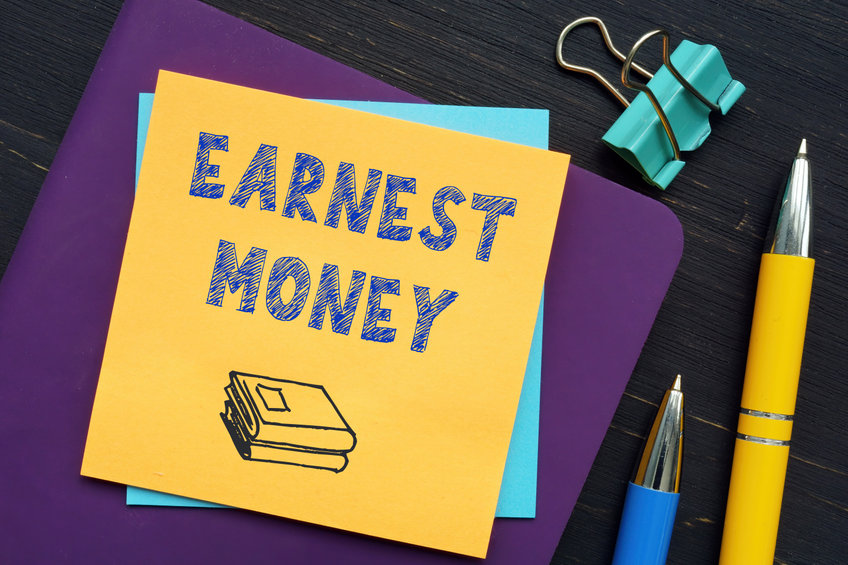 You've done all the research and analyzed a bunch of investment properties on the market. Now you're ready to place an offer. (Not ready yet? Check out How to Buy a House Tips from U.S. News). One way to show you are a serious buyer is to prove your commitment to the deal. You can use earnest money to your advantage when buying a rental property. Let's take a closer look. First, what is earnest money exactly?
What is earnest money?
Earnest money is money the buyer puts down before closing on a property. Some consider it a "good faith" deposit, showing the buyer's intention to purchase a home or multi-family housing. The buyer makes an offer more enticing for the seller by including earnest money in the agreement. The seller gains protection if the buyer backs out and the property has to return to the market. The seller can use the money to start all over again and relist the property.
How much earnest money does a buyer pay?
A real estate contract in the Greater Washington D. C. area commonly includes earnest money, typically 1-3 percent of the purchase price. For properties selling for $100,000-$200,000, the earnest money is likely to be at least $2,000. Properties selling for $200,000 to $300,000 might have a higher deposit of $2,000 to $2,500. The minimum is usually $1,000. If a buyer wants to make an offer more appealing to the seller, the buyer can increase the amount.
Is earnest money required?
Although earnest money isn't a requirement, it may be a necessity in a competitive real estate market. The amount of earnest money deposit is always negotiable. A slow market does not require as high a deposit as a hot market with several investors vying for the same property. A real estate agent, especially one experienced in rental property investing, can recommend a suitable deposit. If your offer includes an earnest money deposit that is too low, and you risk the chance of losing out to a stronger offer.
When is earnest money paid?
Earnest money is paid within a few days of signing the real estate contract. Usually, buyers write out a personal check. However, some sellers and/or lenders require certified funds, cashier's checks or money orders. Most often, the money is held and disbursed from an escrow account managed by a title company or attorney.
What happens if the transaction fails?
Sometimes, a real estate transaction falls apart when the buyer backs out of the deal. What happens to the "good faith" deposit the buyer paid? Well, that depends. In some circumstances, the buyer can get the money back. When a buyer and real estate agent presents an offer to the seller, the offer typically includes contingencies. Contingencies are criteria that need to be met – by buyer, seller or property itself.
Why are contingencies important?
If contingencies are met by the specified deadline, the transaction continues. If not, the buyer notifies the seller (in writing) of an objection. For example, the transaction falls through because of a failed home inspection due to a cockroach infestation. Thus, the buyer gets the earnest money back.
What are common contingencies in real estate?
Common contingencies in a real estate contract include:
Appraisal
If a property is financed through a conventional lender, a third-party appraiser will be called upon to determine the fair market value of a home. If you are using a private hard money lender, you will need a different type of appraisal. Private lenders base the loans on the after-repair value of the property, so the appraiser will be looking to estimate not its current but its future value – the price it can fetch on the market once all the renovations you are planning on are completed.
Financing
Many conventional types of transactions have a financing contingency. That means that if a buyer fails to obtain the financing they can get out of the contract without losing the earnest money deposit. If you are an investor looking to purchase a dilapidated property, chances are your contract would not have a financing contingency. Distressed homes are often listed as "cash only" eliminating such contingency altogether. Those without heaps of money to buy and renovate homes all in cash can use private hard money lenders like New Funding Resources. Our financing is universally considered a cash offer.
Selling an Existing Property
The buyer has an existing property to sell before making a purchase. This type of contingency is rarely used in hot real estate markets such as Washington, DC.
Home Inspection
A certified professional inspects a property for defects. This contingency is very common for conventional types of transactions. If you are a real estate investor looking to purchase a fixer-upper, however, this contingency is rarely available. The majority of distressed homes are "sold as is." Being "sold as is" means that the seller is aware that a property will not pass a home inspection and they decline to make any repairs.
For real estate investors specializing in fix-and-flips, a home inspection contingency becomes of paramount importance when they become sellers themselves. After all, they are now marketing a beautiful and newly remodeled home. A buyer expects perfection and is likely to nag about anything that doesn't appear to be in order. Not to lose the contract, make sure your contractor is on standby to address any reasonable requests.
Title
A provision that ensures the seller can legally sell the property
Survey or ILC
An evaluation of the lot lines and property boundaries
What is the final word about earnest money?
In closing, earnest money acts as a deposit on a home at the time of contract signing. It indicates that the buyer is serious about the purchase. Typically, 1-3 percent of the purchase price is held in an escrow account. A title company or attorney disburses the money at the appointed time. Earnest money usually is refundable if a transaction fails, based on certain contingencies of the contract. Every state has a different way to handle earnest money, so ask a real estate professional for guidance in Virginia, Maryland, Delaware, or Washington D.C.
Contact Us
For additional property investment tips, contact us today. We provide real estate investors with the funds they need to buy and rehab homes in Maryland, Virginia, Delaware, and Washington, DC.