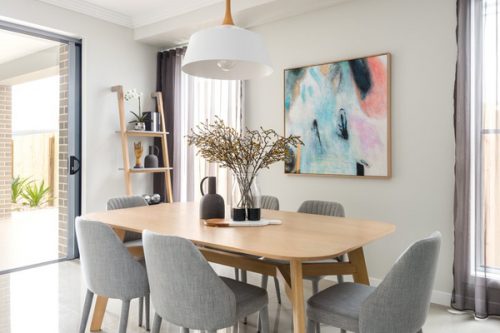 As a rehabber, your goal is to rehab and sell a home as quickly and with as little hassle and expense as possible.  It's easy to get so caught up in the whirlwind of repairs and necessary maintenance that you forget the aesthetic power punch that professional home staging for rehabbers can bring to your property.  I call it the magic of staging because that is exactly what it is—that final magic touch that will help you sell your rehabbed home quickly and for more money.
Last summer, my company, Dreamcastles Interiors, was hired to do home staging for rehabbers in New Carrolton, Maryland. I am being generous when I say that this home had been very minimally rehabilitated.  I was honestly shocked when I first entered the home.  There were holes in the walls where the contractor had not completed repairs, the kitchen cupboard shelves were not installed, the paint was old and dingy, and the doors did not fit properly in the door jambs.  There was no question as to why this property had been sitting on the market for months, without so much as one offer. When I was called in to work my magic, I must admit that I was a little skeptical that staging would cover the multitude of problems I saw in this home.  But I rolled up my sleeves and went to work.  Bringing in new furniture and gorgeous accent pieces, setting the table with a beautiful place setting, adding pops of color and hanging some modern artwork immediately distracted the eye from the home's problems, and instead showed prospective buyers the home's potential.  This story had a happy ending, as this rehabbed home sold for top dollar within two days of staging!
Home staging for rehabbers is the final magic touch that will help you sell your rehabbed home quickly and for more money.
On the opposite end of the spectrum, Dreamcastles Interiors staged a beautifully rehabbed property in King George, Virginia, that sold the first weekend it went on the market.  This home was in perfect condition.  The rehabbers had paid attention to every detail.  The home would most likely have sold even without staging; however, the investors understood the importance of showcasing their beautiful property to its best advantage. I staged that home using vibrant shades of turquoise, along with accents of orange, burgundy, and golds– a color combination that literally made the rooms shimmer. It was transformed from a very nice, clean, and well-maintained property to a virtual dream home. Those rehabbers were rewarded for their extra effort in staging that home, making $10,000 more than asking price.
If you are rehabbing homes in DC, Alexandria or other upscale neighborhoods, the importance of staging becomes even more obvious. You may not be staging, but you can be sure your competitors are taking advantage of this powerful home-selling tool.
These are just a few examples of how professional home staging for rehabbers can increase your profit and help you to sell your property more quickly. The truth is that most prospective buyers cannot see a home's potential unless the rooms are skillfully arranged to show it at its very best. Most homes do not need every room staged.  I generally stage the main living areas, bathrooms, and master bedroom.  All the work can usually be done in one day, and you will make back every penny you spend on staging your rehabbed property.
Lynne Bouchard is a professional decorator who stages homes in the DC area and was a New Funding Resources guest blogger. For more information on home staging for rehabbers, or to get a free estimate on a staging project, please contact Lynne at Dreamcastles Interiors and like Dreamcastles Interiors on Facebook here.