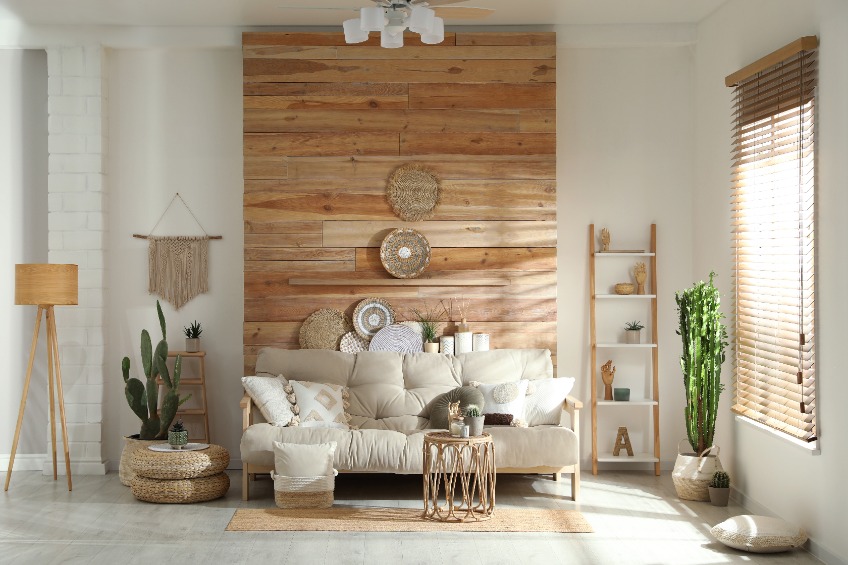 Trends come and go, and savvy rehabbers balance new styles with timeless classics to appeal to different types of home buyers. While incorporating all of the latest trends simply isn't achievable on a fix-and-flip budget, real estate investors who know the up-and-coming home décor styles have a distinct advantage when it's time to sell.
2023 Paint Color Trends
Let's start with the 2023 home décor color schemes. The Covid-19 pandemic motivated us to bring nature's influence indoors by painting walls in the comforting earth tones of beige, brown, olive green, and dusty pink. Warm neutrals like these inspire us to slow down and find peace in our lives.  Another popular color scheme was "Costal Grandmother Style," a combination of bright whites, blues, and natural tones for a sunny yet serene feel.
The 2023 paint color predictions from major paint brands like Valspar, Behr, and Sherwin-Williams run the gamut but tend to be bolder and more vibrant than 2022 top paint colors. When renovating a property in an upscale neighborhood, consider incorporating an accent color to attract the eye to a beautiful area of the house. Benjamin Moore's Color of the Year for 2023, Raspberry Blush, adds a burst of energy to any wall. This cheery, red-orange paint color replaces a soft sage green, Benjamin Moore's 2022 Color of the Year. However, when repainting a property for rent, stick with neutral paint colors that appeal to a larger pool of potential tenants. 
2023 Kitchen & Bath Trends
The National Kitchen + Bath Association (NKBA) surveys its 600-plus members every year to create its annual design trends report. Five key takeaways for kitchen and baths are as follows:
Renovations are bigger and more involved: walk-in or built-in pantries, larger islands, and column refrigerators and freezers
Bold colors, materials, and accents are more popular: darker, richer green and blue are popular for kitchens, yet matte finish outranks polished finish for fixtures
Designers consider sustainability when recommending products and vendors
Baths are more spa-like than utilitarian: people seek an in-home wellness experience
Clients want to make life easier with technology: touchless faucets, voice- or motion-controlled lighting, and mobile apps to control appliances are gaining popularity
2023 Interior Design Trends
Next, let's look at interior design trends for 2023. A house that feels fresh and lively doesn't have to be expensive to rehab. Instead of glamorous, shiny, and glitzy spaces, choose designs with warmth in mind. The modern-minimalist style of clean lines, neutral and black elements is giving way to a maximalist style of color, vintage pieces, and layered textures. Natural materials like stone, wood, and marble are one of the top 2023 home décor trends.
Vogue Living surveyed eight leading designers and architects to develop a list of 14 home design predictions for 2023.
Textured walls and ceilings
Traditional interiors vs. minimalism
Individualism and a mix of design styles
Marble and stone
Creative use of fabric
European influence
Quality, not quantity
Sustainability
Repurposing items
Smaller homes
Multi-generational homes
More leisure and quiet space
Wellness spaces
More natural light and close-to-nature design
2023 Home Office Trends
In the past, the open concept was a common theme in home design. But that changed quickly when the pandemic turned homes into multifunctional spaces. In contrast to an open-concept design, a closed floor plan allows for divided spaces. Family members have dedicated places to work, study, play, and relax. With the pandemic, home offices became a necessity, not a luxury. Fast-forward a few years. As the workforce transitions back to the office, home offices are not as popular. These makeshift offices are changing back to their original purposes or finding a new purpose as a game room, walk-in closet or guest bedroom.
Build Your Real Estate Portfolio
A real estate investor should not go crazy trying to keep pace with all of the latest paint colors, home decorating, and kitchen, bath, and home office trends. But it doesn't hurt to incorporate a few of these ideas into a fix-and-flip to improve its marketability. Turn a drab house into something fresh and appealing. New Funding Resources helps investors in Maryland, Virginia and Washington DC grow their wealth by flipping homes and building their real estate portfolio. Contact us. We're the highest-rated local private lender near you.