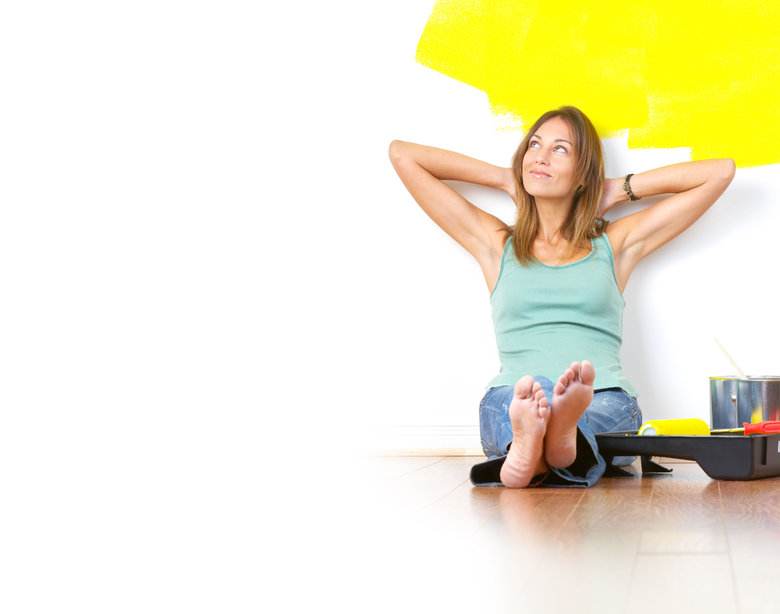 Properties that look attractive are easier to rent out and keep filled in the DC Metro area. Additionally, an appealing rental property commands a higher price for rent. A fresh coat of paint is a simple and affordable way to make a property more appealing to prospective tenants. Fresh paint can turn a drab, tired-looking room into a clean, fresh environment, thereby dramatically improving its appeal. However, choosing the right paint can make all the difference. Here are six common mistakes landlords and property managers make when painting rental properties.
1. Painting with vibrant, daring colors
Interior designers recommend painting with bold, vibrant colors to attract the eye to beautiful areas of a home, like a fireplace or formal dining room. That's great advice, as long as the homeowner loves the accent colors. Our advice to landlords in Washington DC is to save the bold colors for their own homes. The bright paint that you love may be a turn-off for potential tenants. Instead of painting rental properties with bold colors, paint with neutral tones. Neutral shades appeal to a larger pool of potential tenants. Tenants will appreciate the ease of decorating the neutral walls. Their existing furniture will blend into the environment, and they can add their own accents with throw blankets, pillows, or lamps.
2. Painting with stark white
So, if vibrant, daring colors are out, does that mean that white is in? Not so fast. Stark white walls show more dirt, so they require more cleaning. Additionally, stark white is uninteresting, even institutional in appearance. Essentially, paint colors set the mood in a room with their different tones. We recommend creams, tans, and greys for rental properties. Typically, lighter colors are better, although darker shades can be used in areas like the bathroom and dining room. What paint shades are "in" and modern? Check out the Four Best Paint Options for Your Rental. 
3. Disregarding the existing color elements
When choosing the paint color for a rental property be sure to consider the existing colors of the flooring, carpeting, cabinetry, and trim. Understanding color theory goes a long way in choosing paint colors. A color wheel is a handy tool to match color combinations. A color wheel shows how colors interact, giving you an artist's perspective for shades that work well together.
4. Forgetting to paint specific areas
Painting rental properties is a big undertaking, and it's easy to overlook some of the areas that people rarely look at – like the ceiling or interior of the closets. However, these areas are much more obvious when they're the only ones without a fresh coat of paint. To fully satisfy a prospective tenant and avoid the hassle of paint prep all over again, complete the job right the first time.
5. Selecting paint with the wrong sheen
Paint comes in a variety of sheens. A high sheen is all shine. It shows imperfections the most, costs the most, and is the most durable. Flat or matte finishes cover imperfections and clean easily, but have no shine to them. The in-between sheens are eggshell, satin and semi-gloss.
For high-traffic areas like hallways, family rooms, kitchens, bathrooms, and kids' bedrooms, we recommend a satin or semi-gloss. These finishes are durable and easy to clean.
For low-traffic areas like the dining room, living room, and adult bedrooms, we recommend eggshell, flat or matte finish. Walls will be smooth, set a relaxing mood, and are easy to clean.
Avoid pitfalls when painting rental properties
Painting rental properties in the DC Metro area turns a drab environment into something that's fresh and appealing. Landlords have a better chance of finding new tenants in Maryland, Virginia, and Washington DC if their rental properties look attractive and well-kept.
Be sure to avoid these common painting mistakes when you refresh the look with a fresh coat of paint.
New Funding Resources helps investors in the DC-area market grow their wealth by flipping homes and building their real estate portfolio. As landlords ourselves, we are intricately familiar with the challenges and opportunities of owning and renting homes in our area. Please contact us with any questions at 240-436-2340.