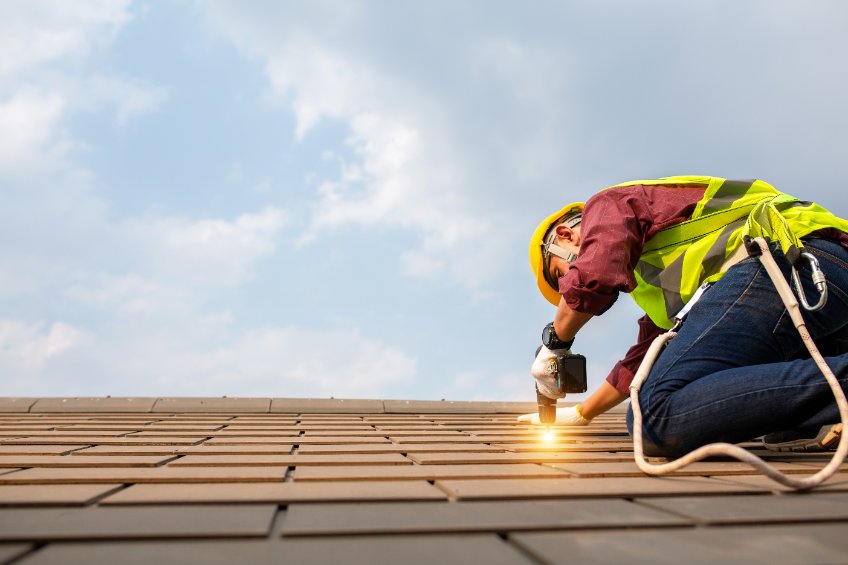 One of the first things that you need to decide when evaluating an investment opportunity is whether you need to replace the roof or not. If you do, it could become one of the most expensive line items in your scope of work. At the same time, it could help you sell your flip faster and for more money. For those planning to keep the property as a part of their real estate investment portfolio, a new roof could help keep your rental in good shape (both internally and externally) for years to come.
If you are an investor trying to decide whether the roof on your investment property needs to be replaced, start with the essential element: cost.
Cost of Roof Replacement
So, how much of an investment are we talking about for roof replacement? The Roof Cost Calculator by Home Advisor lets you type in your zip code to determine a replacement estimate. Essentially, the average cost of replacing a roof in the DC area is slightly over $8,000. Of course, the exact price depends on the size of the roof you are replacing and the type of materials you are planning to use. The most common roofing materials in our area are asphalt shingle roofing, cedar shake roofing, slate shingles, and metal.
Six Signs You Need to Replace Your Roof
The Roof is Approaching the End of Its Natural Life Span
Many roofing companies use an old saying: your roof needs to be replaced when it's old enough to buy a beer. In other words, a roof's typical lifespan is about 20 years. If you are a rehabber planning to flip a property, you might not have a choice but to replace such a roof. Even if it's in decent shape, a 20-year-old roof on an otherwise newly-renovated property would be a bit of an oxymoron.
If you are planning to buy and hold a property with a roof approaching the end of its lifespan, you might need to evaluate its condition carefully. If the roof is in good enough shape, you can save money by replacing just a few wind-damaged or hail-damaged areas. However, if the roof is showing significant signs of deterioration, delaying its replacement can result in more expensive home repairs down the road.
Visible Water Damage or Active Leaks
The first sign that your roof is in need of repairs is water damage or a leak. Even a small leak can grow and become a much larger problem, causing damage to the property and possessions. Of course, if the roof is relatively new, you can probably get away with some local repairs instead of the full roof replacement.
Sagging Ceiling
Try to touch the ceiling with a broomstick or your hand when you are inside. If the ceiling feels soft or has the consistency of soggy cardboard, it is probably caused by excess moisture. A sagging ceiling could indicate a leak in the roof that has not been identified.
Dark or Dirty Areas on Your Roof
Dark areas typically appear when granules begin to fall off shingles, which means your shingles are past their prime and should be replaced soon. Dark patches could also signal algae or moss growth on your roof.
Missing or Broken Shingles
A roof with missing or broken shingles no longer provides adequate protection from the elements. It's a matter of time when decayed or poor-quality shingles cause leaks and further damage the exterior and interior.
Gutter Build-Up
If your roof is old but appears to be intact, check your gutters. The build-up of granules in the gutter indicate that the shingles are losing granules even if they don't appear to be. Finding loose shingles, pieces of shingles, or other roof material in your gutters indicates that your current roof is deteriorating fast.
Six Reasons to Replace a Roof
1. Avoid Water Damage Caused by Leaks
If you see brown stains on ceilings, brown streaks on the walls, or wet areas inside a home, a leaky roof is likely to blame.
2. Lower Utility Bills with Energy Efficient Roofing
The roof of a house is like a lid that traps warm air in the winter and cool air in the summer. A roof replacement contributes to energy efficiency and lowers heating and cooling utility bills.
3. Prevent Mold & Mildew on Shingles
When moisture builds up, mold and mildew have ideal conditions to grow, threatening the health and well-being of people, especially those with allergies and respiratory issues.
4. Avert Animal & Pest Infestations
Unwelcome critters like insects, bats, raccoons, squirrels, and other pests are attracted to faulty roofs. Roof replacement helps block infestations that pose a health hazard and cause structural damage.
5. Maintain Structural Integrity of a Rooftop
An old, faulty roof directly impacts the structural integrity of a home's interior and foundation. A new roof contributes to a stable, long-lasting home.
6. Increase Resale Value for Fix-and-Flip
Fix-and-flip property investors, take note: According to Home Advisor, 32% of real estate agents say a new roof helps a home sell more easily. Missing, discolored shingles or a leaky roof lower the resale value of an investment property. On the other hand, a new roof increases property value and helps generate higher offers from home buyers.
Roof Replacement in the DMV Area
Yes, roof replacement is expensive, although actual costs vary depending on the size and style of the roof. An asphalt shingle roof is more affordable than a metal, tile, or wood shake roof. A DIY roofing project is also more affordable but not a job for inexperienced carpenters or the faint of heart. Landlords and rehabbers in DC need to weigh their roofing options, understand the scope of the renovations, and calculate their ROI before tackling a roof. One final thought: If a hailstorm, windstorm, or other weather event damages a roof, check with your insurance agent for insurance coverage.
Contact New Funding Resources
For more property investment tips, contact our team at New Funding Resources. We are private hard money lenders who work with real estate investors in the DMV area. Distressed properties with faulty roofs might not qualify for conventional financing but still make for good investments. New Funding Resources streamlines the underwriting process and provides practical advice to create a scope of work that minimizes your risk.