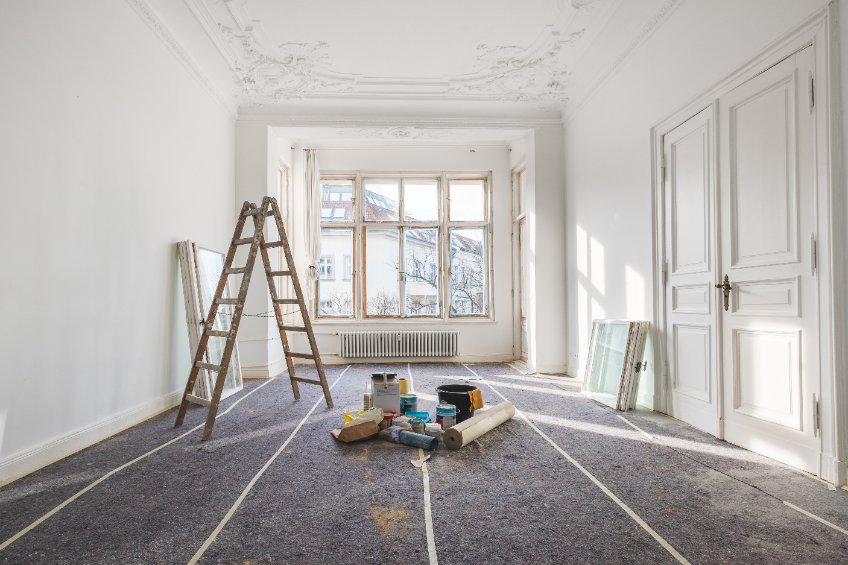 Personally, I like modern home design. Still, no one can deny the charming nature of century-old, historic homes in Maryland, Virginia, and Washington, DC. Their character-building historical features help them fetch a nice price on the real estate market. However, real estate investors purchasing a DC-area vintage home should be careful in considering both stylistic options and financial aspects of the transaction.
Historic Designation is a Key Consideration
The goal behind preservation laws is to ensure that any changes made to historic homes are in line with their historic character. Quite simply, historic preservation protects architecture of significance and promotes the local history and culture. However, for a rehabber it means that you need to know exactly what changes you can make to the property and what changes will not be acceptable.
According to the DC Policy Center, Washington, DC, has the highest share of historic buildings in the nation, with one in five buildings in the city marked as historic. The majority of historic districts are in residential neighborhoods, and 17% of all residential buildings in D.C. are designated as historic properties. To determine whether or not a building is located within a historic district or is an individually designated historic landmark, you can contact the Historic Preservation Review Board.
The rule of thumb when rehabbing a historical property in Washington, DC, is that any external renovation requires both a permit and its clearance by the Historic Preservation Review Board. You would need a permit (and the clearance) for new construction, demolition, building additions, alterations and repair. Permits are also required for retaining walls, fences, sheds, garages, decks, site work, window replacement, signs, and awnings. 
If your investment property is designated historical, things can get complicated quickly. With a plethora of permits to get, time is not on your side when renovating homes marked as historic. You will also have to comply with specific renovation requirements that go well beyond standard construction codes – all of which add additional expenses to your renovation budget.
Protect Distinctive Features in Old Homes
Some properties might look historic but have no official historic designation. With such properties, you might have more room for design and creativity. Some homes, like those in Charm City, have a grandeur and timelessness that should remain unspoiled. Fix-and-flip projects in Baltimore, Maryland, and throughout the D.C. area often come with unique challenges. Rehabbers need to balance the historic charm with the need for modern amenities, cost-effective utilities, and comfortable living for today's families.
House flippers focus on resale value, and sometimes that requires fixing and restoring historical elements to preserve a home's authenticity. They need to be wary of mistakenly damaging a home's traditional features that a buyer would find highly desirable. By protecting distinctive features in a century-old house, rehabbers can increase their profit margins. So, what parts of an old house should be restored and saved?
Remove Carpet & Refinish Hardwood Floors
Vintage homes often have hardwood floors hidden under the carpet, and they are absolutely stunning. Once you pull up the carpet, inspect the floor for insect damage, water damage, cracking or warping. If the hardwood floors are in good condition, refinish them. Then, market the property with the key phrase "original hardwood floors." Refinished hardwood flooring adds value to the home. The real wood is both beautiful and timeless.
Sand & Stain Doors, Trim & Molding
Like the hardwood floors, doors, trim and molding benefit from refinishing. The doors in old homes oftentimes are large, heavy, and made of solid wood. Trim, molding, and baseboards give old homes their appeal. Maintain the home's charm by sanding and staining the wood instead of replacing it. As a cherry on top, consider adding antique-looking door knobs to highlight the history of the home.
Restore. Don't' Board Up Fireplaces
Today, it's hard to imagine living in a house that has a fireplace in every room. With so many fireplaces, previous homeowners may have covered them with brick or drywall. It's probably not cost-effective to restore every fireplace to be period-accurate. However, house flippers shouldn't undervalue a fireplace as a sought-after centerpiece in a room. Before boarding up every fireplace in a historic house, think about ways to restore the fireplaces. Contact a professional to check the flue to ensure the fireplace is safe to use. Clean away the soot and grime with a baking soda paste or soap and water. If a fireplace is no longer safe to use, you may elect to keep it anyway simply for the ambiance and the money you save by leaving it as it is.
Consider Replacing Windows for Energy Efficiency
Older homes are notorious for being drafty. Thus, rehabbers have a choice to make: save the traditional glass and wood-frame windows or replace them with energy-efficient models. The condition of the windows affects the decision. So, carefully inspect the windows for cracks and leaks. Check the frames and sills for water damage or insect damage. Determine if the windows are worth saving or prime candidates for replacement. Bear in mind that if your home is designated historical, you must get permits to replace the windows.
Hire a Home Inspector Before Investing
Before purchasing an old house, consider hiring a home inspector to check the home's overall condition. The fewer the surprises, the better! An inspector can walk through a home to help determine what needs replacing and what can be restored with a minimal amount of time, labor, and money. To maintain the integrity, beauty, and value of a century-old home, restore it carefully. Use historical materials instead of modern equivalents wherever it makes sense functionally and financially. Older homes were built to last. Rehabbers benefit by protecting a historic home's distinctive craftsmanship and antique charm.
Contact New Funding Resources
We are the experts in the DMV area real estate market. We provide our borrowers not only with financing to buy and renovate homes in the area but also with expert advice on how to maximize their profits and minimize their risk. Let's review your potential deal together to determine whether it makes sense. Call us today at 240-436-2340!