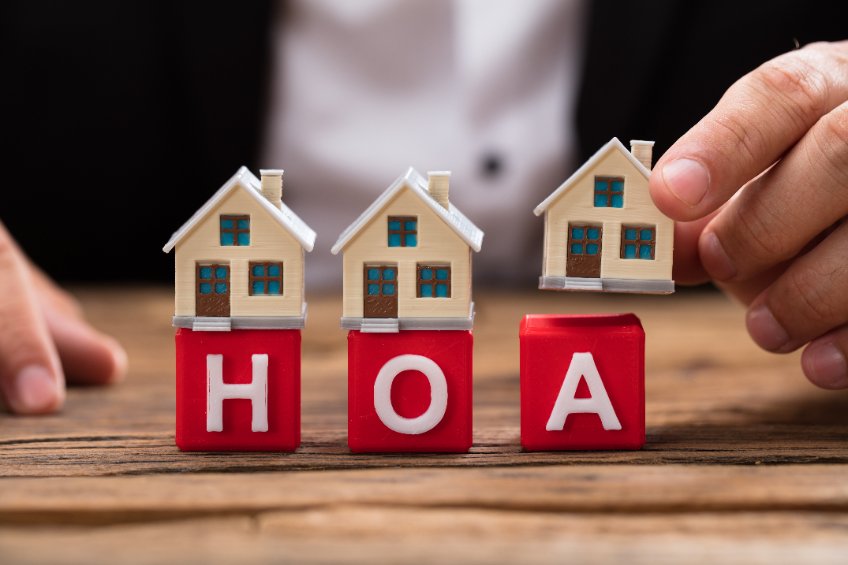 If you are investing in the Greater Washington DC area, chances are sooner or later, you will buy a fixer-upper in the planned community. Such homes come with the strings attached; they are members of a Homeowners Association, and you may be obligated to join in. Let's talk about HOAs and what membership there means for you both as a flipper and a landlord.
What is a Homeowners Association?
A Homeowners Association, HOA for short, is a private association that makes and enforces rules in a housing community. It sets regulations that all residents in the community must follow. These regulations are called Covenants, Conditions, and Restriction (CC&Rs). CC&Rs regulate a number of things, like exterior landscaping and paint colors and where you park your car.
Additionally, an HOA oversees the community's amenities like a clubhouse with a gym, tennis courts, or a playground. Likewise, an HOA maintains common property, like sidewalks, swimming pools, and parking garages. The HOA provides services to members and fosters a sense of community. Lastly, it protects owners' property value by maintaining high standards for member properties. The Homeowners Association Board, a small governing body comprised of community residents, makes decisions and oversees the association.
What are Homeowners Association Fees?
When investors purchase a condo, townhouse or house in a planned community, the investors automatically become association members. Therefore, they are required to follow all regulations and pay all fees. Fees are typically divided into three parts:
Monthly maintenance to cover the routine upkeep of shared amenities
Reserve funds for large-scale repairs and replacement
Special assessments for the occasional, unexpected circumstances
Fees vary, depending on the property's location, size, and amenities available in the community. A monthly maintenance fee of $50-$400 is typical, but fees at upscale properties will cost more.
What Should I Know Before Investing?
Before purchasing real estate in a planned community, investors should thoroughly understand the fees and the HOA's governing documents. Copies of an association's governing documents oftentimes can be found online. Otherwise, the rules are available from the association itself or from a local real estate agent.
If you are looking to fix and flip a property:
Make sure that homeowners' association fees are not excessive or at least in line with other local communities offering the same level of amenities. It's especially important when flipping condos. A friend of mine is trying to sell a beautiful one-bedroom condominium in a historic DC building. Unfortunately, his condo fees are $700 a month! Such heavy additional expenses scare many potential buyers, making a deal that potentially sounded amazing look like a mouse trap.
If you are dealing with condos, you must be especially careful researching home owner's associations (or, as they would be called in such cases, "condo associations." Here is a great article we wrote on how to invest in condos and what to watch out for. Specifically, you need to make sure whether the condo association is FHA-approved or not. If it's not, it would eliminate a significant segment of potential buyers who are counting on the low FHA downpayment requirements to qualify for financing.
If you are looking to buy and hold a property:
Buy-and-hold investors should understand the CC&Rs associated with leasing a property to tenants.  An invest-and-hold strategy will fail if the HOA flat-out prohibits rentals. An HOA may set lease terms that require a minimum one-year lease (kiss good-bye your Airbnb plans), tenant deposits, fees, and registrations. Moreover, the HOA may limit the number of rental units existing at one time, putting properties on waiting lists.
Since you plan to own a property in an association for years to come, its long-term prospects also become a concern. Are the HOA fees about to increase? Are there any special assessments that might be looming on the horizon? Special assessments are one-time charges to all homeowners to pay for major repairs. My good friends moved to Florida a couple of years ago only to discover that one of their pools needs to be practically rebuilt. Not only have they been living sans pool for a year, but each owner has also been charged a special assessment of $10,000 for the construction.
When you own a rental property, how the association is run also affects its long-term appreciation and the quality of tenants you can get. Let me give you examples to illustrate these two points.
I own a property at Deep Creek Lake, Maryland. When we moved in almost twenty years ago, it was a modest woodsy community with the majority of homes selling between $150,000 to $300,000. The homeowner's association is run by a curmudgeonly guy named Bill, who literally dedicated himself to the community. During his years at the helm of the association, he was able to transfer it to a thriving community with every detail carefully attended to. We have well-maintained roads, a beautiful beach, and a wonderful pine-tree common area. Bill is not afraid to impose the rules and the association covenants, which are constantly updated to make living in the community pleasant for everyone. Better yet, he is able to do it with the minimum increase in the HOA fees over the years. The additional funds are raised either through grants or through charging a one-time HOA initiation feels to all new members. As the result, our values have more than doubled. Of course, some of that increase must be attributed to the general real estate appreciation, but some of it is definitely due to Bill's hard work and wise stewardship of the community.
Another example of the HOA impact is a property I own in Gaithersburg. Many years ago, we had an HOA president who spent flagrantly on landscaping, increasing our HOA dues by $20. Our small community near the Rio Center looked like a resort, with lush landscaping, teak benches, and oversize pots of abundant trees. Not everyone appreciated the increase in dues, though. The opposition made the escalating costs their rallying cry and swiftly deposed the spendthrift president. The new president kept his promise to lower the costs.
Now, the community looks like a shadow of its former self. The teak benches rotted a long time ago, and our formerly beautiful common grounds are overtaken by weeds. Many primary-residence owners moved away and kept their former homes as rentals. Like me, they are too busy to fight for the community. We might be saving $20 a month on the HOA fees but are losing much more in the quality of our tenants and our appreciation.
What are the Advantages of an HOA?
Homeowners Association membership has its benefits, and these benefits are likely to attract high-quality tenants. HOA advantages include:
Amenities, like a private pool or gym.
Community atmosphere. Members socialize in the clubhouse or meet friends for tennis.
Ease of living. Someone else is responsible for upkeep, like snow removal, trash services, and maintenance in common areas.
Stable or increasing property values. The neighborhood will look its best and maintain its value because standards are enforced for every property.
What are the Disadvantages of an HOA?
Membership in a Homeowners Association has its drawbacks. Every investor should calculate how the HOA fees affect the bottom line.
Fees increase periodically
Special assessments occur, sometimes unpredictably
HOA regulations can be overbearing. An HOA can dictate exterior colors, lighting, parking, and more.
So, before investing in these properties, be sure to understand the rules and fees. Check out this helpful investment article, 5 Questions to Ask Before You Buy at Home in an HOA.
Contact Us Before Investing in D.C. Real Estate
At New Funding Resource, we help investors evaluate the profitability of property purchases, including properties governed by an HOA. Additionally, we help real estate investors cross the finish line with hard money loans in Washington DC, Maryland, Virginia, and Delaware. Contact us to learn more.