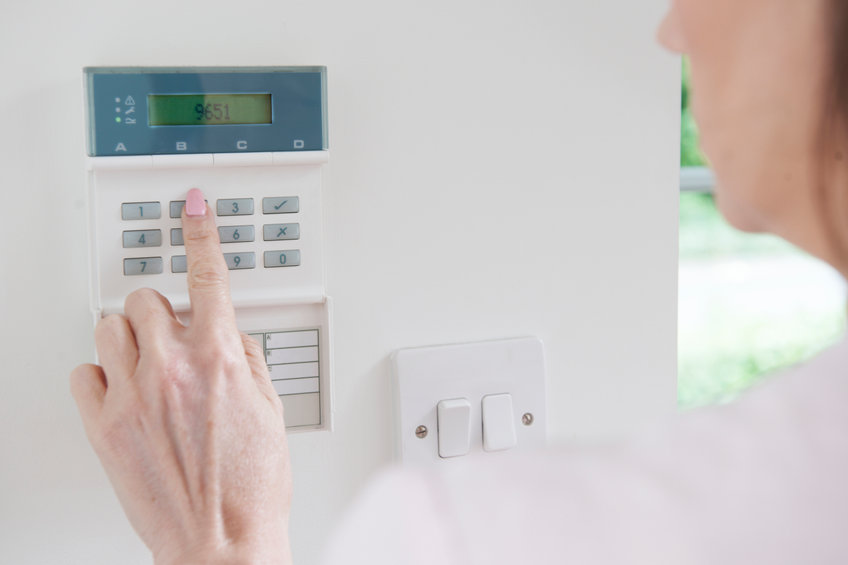 Whether you own a single investment property, multiple rental units, or a fixer-upper in the DC area, protecting the property from harm is a sure-fire way to protect your investment. A security system protects a property not only from criminal activity, like burglary and vandalism. Additionally, security systems can detect other threats, like fire, water damage, and carbon monoxide poisoning.
Deter Criminals and Criminal Damage
Alarm systems are especially advantageous in neighborhoods where crime rates are high or when a unit is vacant, and therefore, an easier target for criminals. Security yard signs, outdoor cameras, stickers, and other visible security signs have proven to deter criminals. Vandals, burglars, and other shady characters often are opportunistic, not advanced planners. A good alarm system prevents criminal damage which can cost a lot of time and money to fix. No one likes to be victimized or feel unsafe in their home. A good alarm system will deter criminals and provide peace of mind for landlords and tenants in Maryland, Washington, DC, Virginia, and Delaware.
Generate Rental Income in DC
Although landlords aren't required to install alarm systems in rentals, these systems are worth the investment. The initial cost of an alarm system is offset by its benefits:
Security systems raise the long-term value of a property
Extra security makes a rental property more attractive to renters
Alarm systems indicate to renters that you're a responsible landlord
Tenants are more likely to recommend your property to their friends
Tenants are willing to pay more to live in a secure property
Tenants won't ask to break their contract early because of a home invasion or other criminal activity
Install Security Systems on a Budget
Landlords and property investors on a tight budget can economize a home security system without compromising quality. One way to save on security costs is to install an alarm system yourself. Another way to save money is to install a hard-wired alarm system instead of a wireless system. Wired security systems are an economical alternative to wireless alarm systems. Lastly, property owners should ask their insurance agents about any discounts related to beefed-up security. In the event of a crime or emergency, landlords can use video surveillance to file insurance claims.
Study Neighborhood Crime Reports
When choosing a security system, one factor to consider is the type of criminal activity in the neighborhood. For example, if window break-ins are prevalent, landlords might consider investing in window alarms. Property owners can customize their security systems to match the neighborhood crime report, thus preventing the most common criminal activity.
Invest in Automated Alarm Systems
Landlords or rehabbers with a vacant property may want to install automated home alarm systems. With an automated system, property owners use a smartphone or computer to remotely control systems in a home. They can adjust the thermostat and turn lights on and off to give the impression that the property is occupied. They also can control smart door locks to remotely grant access to guests or workers.
Install Indoor & Outdoor Cameras
The most common security device is a security camera. Cameras installed indoors can make tenants feel safer and better protected. Indoor cameras monitor high traffic areas like the main entrance, hallways, or common areas. Outdoor cameras monitor people coming and going 24/7, helping to deter vandalism, theft, and other criminal activity.
Receive Notifications When Alarms Sound
Security systems come with round-the-clock monitoring and alert features. When an alarm is triggered, the security company contacts the property owner or landlord. These real-time notifications can lead to a quick response that lessens further damage.
Add to Property Value & Peace of Mind
Alarm systems, like SimpliSafe, help property owners keep an eye on their property when they're away. They add value to a property and generate higher rental income and higher interest from potential renters. Modern security systems offer automated capabilities that control thermostats, lights, and door locks from anywhere with a WIFI connection. Overall, security systems give tenants and property owners peace of mind, knowing the residence is protected from harm.
Contact New Funding Resources
New Funding Resources is a hard money lender for real estate investors in Maryland, Washington, DC, Virginia, and Delaware. We live, work, and own rental property in the DC area, so we understand the demands of leasing and rehabbing properties. We look forward to hearing about your property investment goals and helping you achieve them. Contact us today.