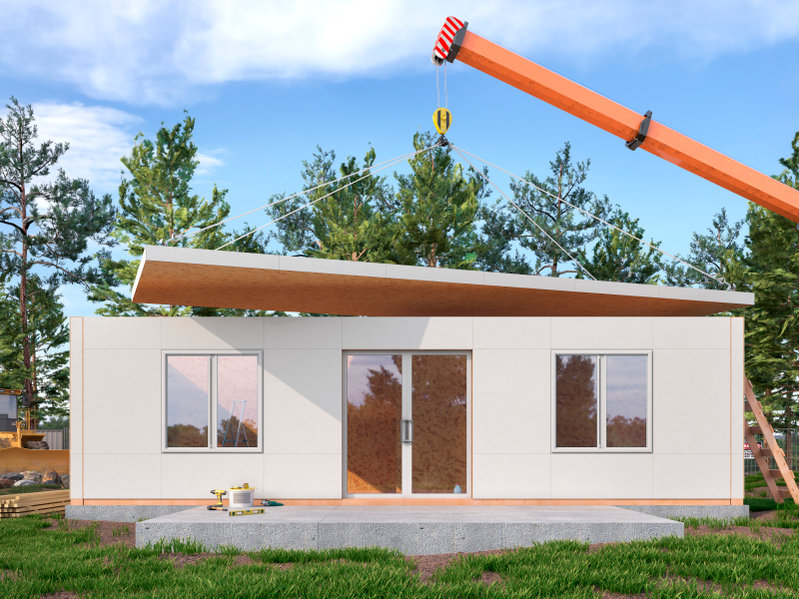 Real estate investors in the Washington D.C. area don't like to miss out on an investment opportunity. Yet the opportunity to invest in a modular home might make them think twice – as it should. Are modular homes a good investment? When compared to stick-built homes, how do modular homes stack up? Are they sturdy and well-built? Is there a demand for them in the DMV area? Do they gain or lose value over time? Essentially, real estate investors need to know if modular homes are a solid investment. Here are some straightforward answers for Washington D.C. area rehabbers planning to fix and flip a house or investors/landlords planning to buy and hold.
What is a modular home?
First, we'll start with some helpful definitions.
Modular homes are built in sections in a factory setting in a matter of weeks using new technologies such as 3-D printing. Then, the sections are transported to a home site, assembled, and placed on a permanent foundation.
Prefab is the overall term describing homes that are constructed in sections at an off-site location, not at the building site. Modular homes are a subset of prefab homes.
Manufactured homes are different than modular homes. Manufactured homes, sometimes referred to as mobile homes, are built to be movable. Manufactured homes can be relocated from one site to another; whereas modular homes are set on a permanent foundation and stay in that location.
Traditional homes, also known as stick-built or custom-built homes, are constructed on-site over a period of several months. Stick-built homes come in a variety of residential architectural styles.
How are traditional & modular homes similar?
Modular homes also come in various architectural styles and sizes. Not all factory-built homes are alike. They can be customized to meet the owner's preferences. Features vary, and so does the quality of the build. Investors are encouraged to do their research. When purchasing a prefab home, investors are encouraged to research the reputation of the manufacturer and do a thorough walk-through of the house before the purchase. Modular homes must meet all building codes, just like homes built on-site. However, an existing modular home may require updates and maintenance, just like a traditional home that deteriorates over time. Although some modular homes are placed on concrete foundations, others are assembled above basements or crawl spaces. They're typically built with environmentally friendly materials and practices and are engineered to be energy efficient.
Price, Value, Taxes & Covenants
One way that modular and traditional homes differ is price. Investors can save quite a bit by purchasing a prefab home, compared to a stick-built home. Because they are built in less time, modular homes are less expensive than traditional homes. Additionally, they retain their value. Taxes on modular homes are assessed at the same rate as traditional homes. It's worth noting that not everyone likes modular homes in their neighborhood. Some subdivisions have covenants prohibiting them.
Once completed, modular homes are basically indistinguishable from a stick-built (traditional) style of construction. Lenders and appraisers typically treat stick-built and modular homes as equal. In the DMV area, most modular homes tend to be constructed when someone buys a lot and wants to build just one home, not an entire subdivision. Manufactured (mobile) homes are appraised differently and some lenders won't lend on manufactured homes or will use alternative types of financing. A manufactured home will always have a "HUD plate," which is permanently affixed to the property, and identifies it as a manufactured home.
Are modular homes a good investment?
Modular homes are a cost-effective option for investors looking for their next investment property. Because of their lower asking price, these homes have solid investment potential. Landlords have the potential to earn enough in tenants' rent to outpace the mortgage. Rehabbers have the potential to buy low, add sweat equity, and sell high. At New Funding Resource, we help investors evaluate the soundness of investment projects involving modular homes and other properties. Our seasoned team of mortgage and real estate professionals is ready with timely advice and competitive financing. We work with maximum speed and flexibility, providing investors with hard money loans in Washington DC, Maryland, Virginia, and Delaware. Contact us to learn more.