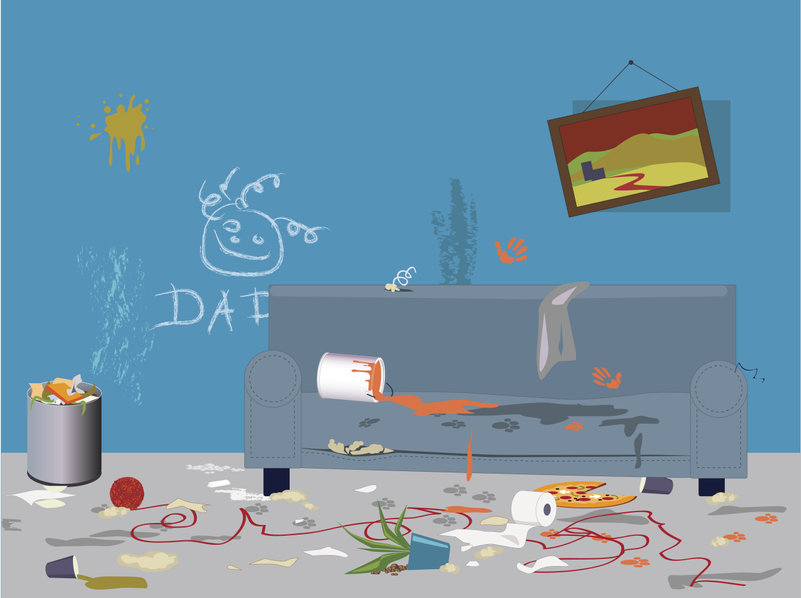 As soon as you've closed on your rental property, you are saddled with the responsibility to maintain it. Since many of our borrowers extensively renovate their properties before renting them out (that's what our buy-and-hold loans are for), the first five years following the renovation are typically relatively easy. You might need to fix a broken faucet or repaint some rooms when switching the tenants, but chances are you would find it easy to manage your maintenance responsibilities. However, time marches on.
As your property ages, you are bound to spend more time and money maintaining it. Add a demanding tenant on top of it, and sooner or later you might feel completely inundated with requests both valid and completely preposterous. Valid requests are the requests that bring up the issues that have the potential to damage your property if not addressed quickly. One of the most obvious examples of a valid request is a leak. If not fixed immediately, it can cause thousands of dollars in repair bills down the line. Another example of valid and urgent repair is not functioning airconditioning system in the middle of hot and humid DC summer. It might not damage the property, but simply not fair to the tenant slowly baking there.
There are also maintenance requests that fall in the category I call "You must be kidding me." If your tenant locks himself out of the bathroom and calls you to come to open it on Saturday morning, this is an official "you must be kidding me" request. So is attaching loose toilet paper holders or removing hair out of the drain. Your tenants have chosen not to live in an apartment building with the maintenance personnel on-premises. And it's not unreasonable that you as a landlord expect them to have minimum skills with a screw, a hammer, and a plunger. To save yourself time and hassle, you need to know and communicate very clearly to your tenants where your maintenance responsibility ends and where theirs begins.
Landlord's Maintenance Responsibilities vs Tenant's Responsibilities
One of the best sources of this information is the landlords – tenant handbooks published by counties. Many of them have detailed guidance on what kind of maintenance falls on the landlord's shoulders and what is the responsibility of a tenant. Being an experienced landlord, you would think I know exactly where that line falls – but truth to be told – I was surprised by the extend of the tenant's responsibilities. For example, who would know that in Montgomery County a tenant is responsible for cleaning the gutters? Here are some links for the landlord-tenant handbooks for the counties in the Washington, DC area.
Once you've clearly established tenant-landlord maintenance responsibilities, it's time to encourage your tenant to be as sufficient as possible in addressing minor repair items. Now, if your tenants are handy and are into home maintenance – God bless them! Make that maintenance as easy as possible for them. Over the years, we had wonderful tenants who repainted rooms in colors they liked, stained the deck, and replaced kitchen cabinet knobs. The least you can do for them as a landlord is to pay the cost of their materials. Trust me – it's well worth it.
On the other side of the spectrum are the tenants who don't know what the screwdriver is. They are the ones that are calling you in the middle of the night because the light in the bathroom no longer works. The majority of them are not trying to make the landlord's life difficult. They are genuinely clueless about many if not all aspects of home maintenance. If this is the case, it's in your interest to train them how to do certain things and make sure they have the equipment to accomplish small maintenance tasks.
Appropriate Home Repair Toolbox Encourages Better Rental Property Maintenance
In my experience, one sure way to ensure that tenants have at least some home-maintenance competence is to provide them with basic tools to do it. For example, many of them don't even own a tape measure. Why do you need your tenant to own a tape measure? The answer is simple: so you can spare yourself a trip to the property to measure appliances that need to be replaced. So it's in your interest to PROVIDE that tape measure to your tenant.
Recently, we've started to provide a free tenant toolbox to all the tenants in our real estate portfolio. Here is what we are including in it (with the links to where to get this stuff):
Home maintenance kit that includes a hammer, pliers, screwdrivers, scissors and (yes!) that tape measure.
Drain cleaning tool to easily remove hair and other debris from the drain. Even a child can use it, and it's likely to save you hundreds of dollars in plumbing charges. I guarantee you it being the best $10 you ever spend!
A humble but oh-so-useful toilet plunger.
We've also started to provide a couple of spare air filters to encourage the tenants to replace them often. The price is modest but ensures healthy air for your tenants and a fresh-smelling property for the next occupant.
Better rental maintenance starts with the reduction of wear-and-tear
Wear-and-tear on your home depends on the number and the type of tenants you get. A family of two is likely to cause less wear-and-tear than two parents, three kids, and the dog. Your hope is that whoever your tenants are they are motivated to get their full deposit back and competent enough to do what it takes. I remember the first property that my wife and I were renting. We were so desperate to get our deposit back, we had steamed the carpets and washed all the walls. We probably went way overboard on what was expected from us but had definitely got our full deposit back.
Though you don't have full control over how your tenants treat your property, there are certain things you can do to minimize that wear-and-tear. One way to do it is mats or liners: in as many cabinets as possible or, at minimum, under the sinks.
The kitchen sink is one of the places that tend to be trashed even by the neatest tenants. With all the liquid soaps, chemical cleaners, old sponges, and anti-roach sprays folks tend to keep there, things get gross pretty quickly. Even worse, those stains are hard to clean, and many of them damage under the sink cabinet area permanently. One way to address this situation is to install a brand new durable water-absorbent mat under the sink every time your change tenants. A good quality mat might cost you up to $30 but it's much less than all the time, effort, and money you otherwise would spend making the under-sink area presentable for a new tenant.
At New Funding Resources, we work hand-in-hand with budding landlords. Our private hard money loans provide the funds you need to buy, rehab, and build instant equity in your rental property. We are experienced landlords ourselves managing a robust portfolio of homes in the Washington, DC area. We openly share our expertise both in buy-and-hold and fix-and-flip strategies.